A touch of teal
"Montgomery has a way of rallying around you," said Nicole Lee last week as large teal ribbons were tied around trees throughout the Village of Montgomery.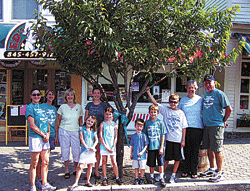 September is Ovarian Cancer Awareness Month and this year there is a national campaign to Turn the Towns Teal.
"We're excited to be on board for the first year of the national campaign," said Lee.
Lee's sister, lifelong village resident Corinne Feller, lost her battle with ovarian cancer when she was only a high school student at Valley Central.  The Corinne Feller Memorial Fund for Ovarian Cancer Research and Awareness and the Cancer Awareness Survivors Team (CAST), were born from that loss.  Feller's family and members of CAST were on hand last week, tying ribbons and asking businesses to display awareness posters.
The response was such that the group ran out of posters before they had finished the downtown area.  Individuals from the Montgomery Florist tied all the bows for them and taught them how to tie the ribbons expertly on the trees.
"That's the kind of support that we've been getting from businesses all around town.  We've just seen amazing enthusiasm from the local businesses," said Lee.
The village officials also showed tremendous support, turning around approval for tying the ribbons within 24 hours.
"I only found out about [Turn the Towns Teal] about a week and a half ago," said Lee.
The national campaign organizers told her there was no way she was going to get the necessary approvals from the village in time, but within a day, Mayor Steven Brescia and Trustee Andrew Roepe had pulled it off.
"Without their help, it would not have been possible," said Lee.  "From start to finish, it's just been a great experience."
For more information on ovarian cancer and the national campaign, visit: www.turnthetownsteal.org.
By RACHEL COLEMAN
rcoleman@tcnewspapers.com