Warden leads the Lady Dukes
Marlboro's Courtney Warden seems shy, but she's been very loud for the Dukes this season on the track, and during the MHAL track championships Thursday,  she won the 100 hurdles and took second in the 100-meter dash.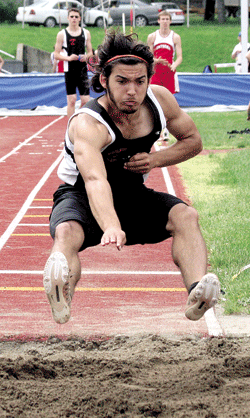 "I've been pretty good," said Warden, quietly trying to explain her success this year after qualifying for the finals in the 100 hurdles.
Warden won the hurdles with a time of 16.30, a fraction of a second in front Pine Plains' Julia Mizutani. In the 100-meter dash, Warden, who ran a 12.90, lost to Rondout's Rachel Friedman, who won with a time of 12.70.
Marlboro's girls took fifth place, garnering 59 points. Georgia Houghton took second in the 2,000 steeplechase with a time of 8:07. Warden also ran on Marlboro's fifth place 400-meter relay team.
Marlboro's boys tied Rhinebeck for eighth place with 38 points. Kyle Marquis was second in the 3,000 steeplechase with a time 10:42.40, and Rich Barley was third in the pole vault and sixth in the 110 hurdles.
Russ Pernal was third in the long jump, covering 20-feet, an inch and half. Pernal also ran on the Marlboro's fourth place 400-meter relay team.
"Anything in the 20-foot range is good for me," said Pernal, a senior, after the leap that would ensure him his third place finish. "This is the first year I started jumping 20."
By Bond Brungard
sports@tcnewspapers.com