Huskies drop tough opener to Wallkill
Highland's Max Cruz was cruising on a sunny Monday, April 2.He had a no-hitter through four innings, but Wallkill's Nick Gomez reached on an error when Chris Tozzi dropped a pop-fly in the swirling wind near the mound and the plate.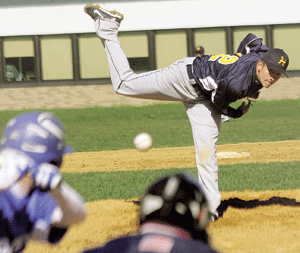 Sean Puleo hit a weak bouncer between short and third with two outs to bring home Gomez for the Panthers for their first run during the 3-1 victory.
"I choked up, put the ball in play and sprinted out of the box," said Puleo, recalling his RBI. "We finished it out with defense."
Puleo came home on Andrew Conover's RBI-double to make it 2-0.
Brendan Connors added another RBI-double in the sixth before Highland's Sam Ruiz tripled home the Huskies only run the seventh.
"Sometimes you out-hit your opponents – and the win," said Jim Delmar, Highland's coach, as his team collected five hits. "They got some timely hitting."
Highland's best chance came in fifth when Josh Villafane, Wallkill's starter, gave up a single and issued a pair of walks to load the bases. Cruz went the distance and gave up only three hits as he took the loss.
Villafane did his job in Highland. The Panthers starter left in the top of the fifth with bases loaded and two outs. Shane Sarra came and induced a fly-out, and the Panthers had the chance in the scoreless game in the bottom of the inning to score first in their season-opener.
By Bond Brungard
sports@tcnewspapers.com