Old Fashioned Day returns to Walker Valley
If you find yourself longing for the "good ol' days," take a trip back in time with the annual Old Fashioned Day on Sunday, June 3 at the Walker Valley Firehouse.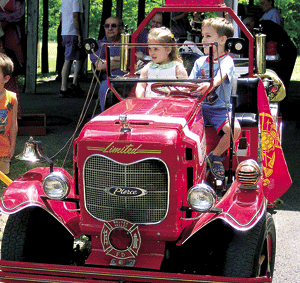 Old Fashioned Day will take place from 11 a.m. to 5 p.m. at the firehouse, Rt. 52, Walker Valley. Admission is free and food is available for purchase. Raffle tickets will be on sale.
Everything old will become new again with wood carvers, dancers, the Walker Valley Band, quilters, farm animals, Native American artifacts, antique cars, fire companies showing equipment from past and present, and old-time, carnival-style games such as three legged races, sack races, egg tossing, watermelon pit spitting contests, hoop races and more.
"It's a fun event," said Richard Greer, an Old Fashioned Day co-organizer. "It's not meant to be a fundraiser. We keep food prices down; we basically break even. We ask anybody who wants to come to come and dress up in antique clothes.
"I think it's great for young people – young and old – to come and see what things were like."
Every year, the games are a big hit with the kids, said Greer.
"The kids love it. This was all stuff that was done 100 years ago," he said. "Kids nowadays have no clue [about the old games]. All they know is how the computer works."
In a contest that asks "Do you know what this is?" Greer will display 25 pieces of old-time farm equipment and other kinds of tools and explain how the gear works. Tools from the 18- and early 1900s will show the progress humanity has made over the last century. Included will be equipment for washing clothes, cooking, woodcutting, woodworking and ice cutting.
"Some of them know what they are, some of them don't," said Greer of the participants. "It's a fun thing."
The upcoming event marks the 23rd Old Fashioned Day and according to Greer, it continues to attract a large number of visitors. There's a simple reason for that, he added.
"Things are at such a fast pace today and something like this helps bring you back to how things were," said Greer.
The first Old Fashioned Day took place in 1990 at the 75th anniversary celebration of the Walker Valley Fire Company and was co-created by Greer's parents. Throughout the past 20-plus years, the theme of the non-profit celebration has been to bring people of all ages together for fun, relaxation and community awareness.
In addition to Greer, this year's Old Fashioned Day committee consists of Mary Webb, Ken Henry, Dom Crisafulli and many other local volunteers. Greer thanked them all for their participation.
By Matt Frey
mfrey@tnewspapers.com