Signs of trouble
"It's getting worse," said Shawangunk Town Councilman Robert Miller. Like many communities in the area, Shawangunk has seen an invasion of the dreaded pole signs—advertising signs posted on telephone poles for businesses, most of which are not located in that community.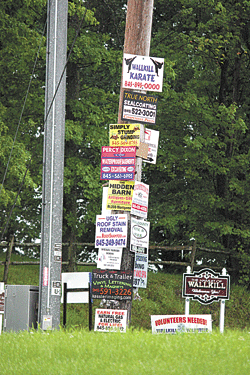 The Town Board spoke about the problem at their meeting last week, explaining that in Shawangunk the signs are illegal—the zoning code expressly prohibits them—but it hasn't slowed the reproduction. In fact, there are now signs urging people to purchase their own illegal signs.
"It is a problem," said Supervisor John Valk, Jr., adding that the signs are often left for long periods of time until they become "shabby" and blow away or the town takes them down.
Unfortunately, the signs are often replaced soon thereafter.
The board agreed to actively pursue the culprits of the sign invasion and direct the code enforcement officer to issue violations or citations.
"It's not fair to the local businesses," said Valk. "We need to promote our own, not those ten miles away."
The board discussed the possibility of a new addition to the sign law, allowing a permit for a limited number of signs in a specified area to direct customers to the grand opening of a new business. The signs would only be allowed to go up five days prior to the grand opening and must be taken down by the business owner promptly afterward.
On the flip side, the Town Court has received a grant for a sign. The board authorized the sign to be placed in the hall outside the court and briefly discussed the possibility of a small sign at the entrance of the parking lot directing people to the correct entrance. Councilman Amthor stated that he would donate lettering for the doors for the posting of office hours.
In other business, Christine Barritt, a teacher at Plattekill Elementary who masterminded the recent Wallkill Clean Sweep, advised the board that the event drew about twice the number of participants as last year and that the community responded well to the new activities—the picnic afterward and Earth Day celebrations on the library lawn.
Barritt is contemplating adding a fall cleanup to make the cleanups a little easier (presumably less litter), which would enable them to expand the cleanup area.
By Rachel Coleman
rcoleman@tcnewspapers.com