Little League All-Star play underway
Pine Bush's 11- and 12-year-old girls battled back against Middletown Sunday with Olivia Wellington's RBI-triple to tie it 3-3 in the top of the sixth at Wallkill Area.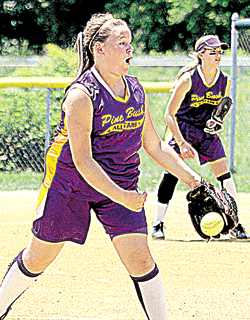 But after loading the bases in the bottom of the sixth with a pair walks and a single, Grace Guh drove in the winning run with a single for the 4-3 victory and handed Pine Bush its first loss in the District 19 tournament.
The loss came after Pine Bush started the tournament by beating Wallkill Area 10-2 and Minisink Valley 10-0.
"I think we'll move forward and face this team again," said Anthony Wellington, Pine Bush's manager. "We have not given up."
Middletown's Raquel Estrada hit a two-run single in the third to give her team a 2-0 lead before Wellington tripled and scored on a wild pitch for Pine Bush in the top of the third.
In the fifth, Middletown's Adrianna Espinol opened the inning with a walk before scoring on a wild pitch to make it 3-1. And then Oliva Wellington tied with another hard-hit pitch. "I was happy because it tied it and brought home two runs," said Oliva Wellington.
Pine Bush's other hit off Jazmyn Martinez came in the fifth with Abigail Magner's double. Martinez struck out 10 – including the side in order in the third inning.
The Town of Newburgh girls' 11- and 12-year-old all-star team suffered its first loss of the District 19 tournament Friday when they were defeated by Cornwall 7-6 in Pine Bush.
Casey McKnight opened up the first inning for Newburgh with an RBI-double and a 1-0 lead before they battled throughout the loss. Amanda Cotton also singled for Newburgh.
Newburgh started the tournament with 12-11 victory over Washingtonville.
"That was a nail-biter for us," said Steve Leggett, a Newburgh coach. "We were losing by seven, and we came back.That's when the bats came alive."
Brittany Garcia, who started against Cornwall, also helped on the mound against Washingtonville.
After beating Washingtonville, Newburgh beat Otisville 19-9 to advance against Cornwall.
New Windsor boys win
Kevin Wannamaker doubled, while Joseph Russell had two hits as the New Windsor Minir Division boys beat the Town of Newburgh 3-1, Saturday, in a game at Cornwall.
Tyler Serafini had a double and single for the Town of Newburgh.
Previously, New Windsor had defeated the Washingtonville Blue Team, 16-10.
By Bond Brungard
sports@tcnewspapers.com