Nuclears win four straight
Last week, the high school seniors playing Newburgh's senior Nuclears team graduated, but before that break at the end of the week, they won four games in a row as the team improved to 9-7.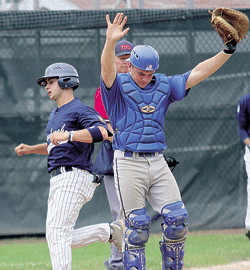 Losing 5-4 against Kingston Monday, June 17, the Nuclears came back to win 14-7. The next night they played Rockland, and they swept the double-header 9-2 and 12-11.
Finally during their eighth game in seven days, the Nuclears beat Shrub Oak 7-6 behind the pitching of Marlboro's Riley Stong and Anthony Petralia. Stong started against Shrub Oak, and Petralia relieved him in the seventh with bases loaded and one out. Petralia got a pair of pop-outs for the save.
"We are currently 9-7, and we are 9-3 in our last 12 games," said Rich McKnight, Newburgh's coach. "The team is starting to gel, and we are looking forward to the remainder of the season."
Valley Central's Matt Winkler has been helping offensively, such as doubling against Kingston in the second inning and then scoring later on a wild pitch. Marlboro's Eric Sandri started for Newburgh against Kingston before he was relieved by Dave Gizzarelli, who won that game in relief.
Marlboro's Mike Schoonmaker and Tyler Curtis have also helped Newburgh run on offense and defense.
This weekend, the Nuclears travel to Keene, NH for a tournament before heading into the season's homestretch in July.
By Bond Brungard
sports@tcnewspapers.com