ORMC celebrates summer with vibrant colors
Take an artistic journey through the all the colors of the rainbow with Orange Regional Medical Center's newest exhibit, "Visual Expressions of the Beauty of Color," opening this Thursday, June 28 with a reception from 4 to 5:30 p.m.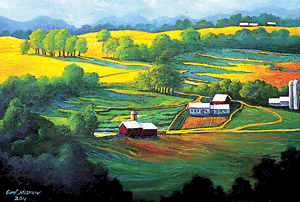 "Color" will remain on display through Aug. 7 outside the conference center and cafeteria at Orange Regional Medical Center, 707 East Main Street, Middletown.
Living up to its name, the show includes original pieces such as paintings, photography and drawings that represent visual expressions of the beauty of color. The artists represented in the exhibit all reside within Orange County and range from first time exhibitors to those with established reputations in the art community. The eight featured artists are Carol Flaitz, Angelo Marfisi, Gad Nusinov, Scott Jordan, Anthony Merone, Barbara Rubin, Artur Charukhchyan and Denise Aumick.
"ORMC gallery space develops and exhibits several art shows throughout the year in its new gallery space," said Elizabeth Cappello, an artist from Wallkill River School who worked on the show. "All artists chosen for this exhibit use color as a primary component in their work."
According to Orange Regional Art Curator Sarah Thompson, the exhibit blossomed from a simple idea.
"Elizabeth Capello and I sat down to brainstorm a theme which would celebrate this summer season. We decided the way we were going to choose the pieces for this show was by color. Color promotes wellness and has impacted the selection of art throughout the entire facility," she said. "We didn't focus on any specific medium. The 'Color' show is an eclectic collection of vibrant paintings, photographs and sculptures."
The goal of the exhibition, said Thompson, is to showcase the positive impact art has in a healing environment.
"Art in healthcare impacts visitors, patients and staff every day. Art can free us to think, dream and sense. This often proves to be an invaluable contributor to any successful healing environment," she said.
Newburgh artist Carl Flaitz has a series of three works, entitled "Feeling Blue," in the show.
"I fell in love with the color blue," she said. "I'm using multiple blues in the pieces. So you've got cobalt and then there's also cerulean, and there's ultramarine and there's an entire range in the spectrum of blue."
Made from a combination of beeswax and resin applied to a wooden "canvas" – an ancient Roman art known as encausitic – her pieces have a sort of three dimensional quality to them, Flaitz said. That 3D effect on a two-dimensional surface is known as "bas relief." Flaitz was introduced to her unique medium at an art workshop in Kingston.
"I fell in love with the medium and I've been using it ever since," she said.
Future art shows continuing to display local talent are being planned. For more information about Orange Regional's art program, contact Thompson at sthompson@ormc.org or visit www.ormc.org.
By Matt Frey
mfrey@tcnewspapers.com