River School captures the 'Essence of Light'
If you've ever stayed up all night to watch the sunrise through the trees or left work early to take in a picture perfect sunset, the Wallkill River School's newest exhibition, Essence of Light, might be just the thing to brighten your day.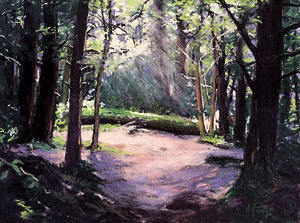 The show, featuring the works of Kate Ferriter, Dennis Fanton and emerging artist Ellen Jamison, will run through the end of this month. The school is located at 232 Ward Street, Montgomery. Normal gallery hours are Monday through Saturday from 9 a.m. to 6 p.m.
Ferriter, an oil painter with a penchant for nature, said that she wants to present not only a stunning visual, but to capture the sounds and the emotions of the scene as well.
"The summer sings with the beautiful music of the nighttime insects," Ferriter said. "The winter nights rage with cold winds, or shimmer with the brightness of Christmas lights."
The exhibit will introduce several of Ferriter's new paintings with two versions each: one in oil, and the same piece in watercolor using the batik method, which utilizes a cloth and melted wax.
Having been trained at the Massachusetts College of Art in Boston, the artist has called the Hudson Valley home for the past 20 years. While Ferriter enjoys the local countryside, she also yearns for a taste of the urban life. Ferriter said her goal is to present obvious beauty as well as the obscured, such as a glimmer of sunlight hitting telephone wires in an industrial area.
"There is color, form and excitement for me in the overlooked areas. The parts of town you just drive through can present a forgotten or unnoticed interest. Those are the things I look to capture," she said. "It is all in how you interpret it. That is my job. To put it out there and let you decide what is interesting."
Fanton is a Middletown artist whose style is similar in many ways to the works of impressionistic painters. He focuses on color relationships and varied brushwork.
"My work is strongly influenced by the Hudson Valley landscape and the changing seasons. My medium and style also fluctuates between pastel and oil," he said.
The balance of light and shadow are a frequent theme in Fanton's work, something that fits right in with the current Wallkill River School show.
"Art will always be a major focus of who I am as I try to discover new approaches in my creativity," he said.
Fanton was trained in art at Newark School of Fine and Industrial Arts, Ducret School of Art, and had private instruction in oil painting, pastels, botanical illustration, and portraiture.
In her first solo exhibit, in the Wallkill River School's workshop room, Jamison shows that she is fluent in many media including pastels, oils, watercolors and pen and ink.
The artist has had a lifelong interest in artistic endeavors. She began studying in earnest about 30 years ago, painting with Matilda Grech, a watercolorist from Port Jervis. She also studied with professor Buzz Wallace at SUNY Orange.
When retirement allowed her more time, Jamison returned to painting in 2009, studying pastels. She continues to study watercolor as well.
"I love beauty," said Jamison. "I endeavor to express it every way I can."
For more information about the gallery, call 845-457-2787.
By Matt Frey
mfrey@tcnewspapers.com