Cobras make it look easy in win over Dutchess
It was a nine-inning game and John Cain, who started for the Middletown Cobras senior American Legion team against the Dutchess Bulldogs Wednesday, June 29, made it look quick and easy at Faller Field.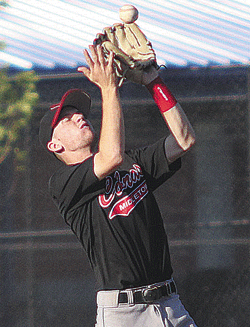 Cain, a six-foot, eight-inch lefty, opened the nine-inning game by striking out the first two batters and didn't stop dominating until he left after seven with a 5-1 lead.
Cain finished the game with eight strike outs while giving up just two hits. Dutchess scored its only run in the fifth when Cain walked Connor Heraty, who then came home on Ryan Fagan's sacrifice fly.
"I had some movement on my two-seam [fastball] and change, and that helps a lot," said Cain.
Frank Mayo hit a first-inning RBI-single to put the Cobras up 1-0. Mayo knocked another run in the four-inning fifth with a single. Josh Walker also singled home a run in the fifth as Adrian Castillo scored on wild pitch. Brian Guzman reached base on an error to bring home another run in the fifth.
Walker singled home Mayo after he tripled in the seventh. Jimmy Patterson came in and fanned the side in the eighth and struck out two in the ninth.
And the offense helped Cain, who improved to 1-1.
"We scored a lot of runs," said Cain.
By Bond Brungard
sports@tcnewspapers.com