Cobras qualify for state tournament
Middletown's senior American Legion team qualified for the state tournament Tuesday, July 24 after stopping Newburgh 6-5 in the District 9 final in Newburgh.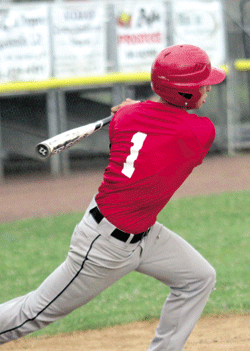 Middletown took a 4-1 lead after the fourth before scoring a pair of runs in the sixth inning on errors to lead 6-1.
In the eighth inning of the nine-inning game, the Nuclears scored four runs off Nolan Apfel before Jimmy Patterson came in the ninth and saved it for the Cobras.
"It was a nail-biter, but I was pretty confident in our pitching," said Tommy Walraven, Middletown's shortstop. "We had the insurance runs."
Patterson, playing the outfield before relieving Apfel, who relieved starter Josh Walker, drove in a run in the first-inning with a groundout and then singled home a run in the third inning.
Newburgh rallied in the eighth behind RBI-triples from Pete Fuentes and Mark Matey. Tim Maisonet singled home a run, and L.J. Gizzarelli drove in a run with a groundout before the rally ended.
Joe Consorti, playing in his final game for the Nuclears, walked three times, singled and grounded out.
"It doesn't feel good," said Consorti, following his final game.
But it was a good season for the Nuclears, a team that made it the championship game this season with new coaching after a disappointing flameout in 2011.
"The coaching was better," said Consorti. "The attitudes were better on the team. We had talent, not as much as last year, but we had heart."
Newburgh beat Schrub Oak in a close game to advance to the final, as Middletown remained undefeated before they faced the Nuclears in the title series.
"That's why I think we did so well – because we had the close games before," said Walraven.
Walraven thought the senior team was as strong as the 2011 junior team, which advanced to the state final last year. This week during the state tournament in Utica, they'll have a chance to see how good they really are.
"I think we're ready for it," said Walraven.
By Bond Brungard
sports@tcnewspapers.com