Rail trail repair has $214K pricetag
"Until we can get the bottom part stabilized, we can't do the top," said Montgomery Town Supervisor Mike Hayes.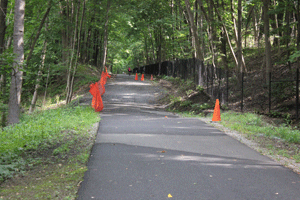 As many residents are aware, a section of the Walden-Wallkill Rail Trail was significantly damaged during last year's hurricanes. To date however, no repairs have been made.
The section of the Rail Trail is maintained by the Town of Montgomery, which since the damage occurred, has been making its way through the process laid out by FEMA.
According to Hayes, the same portion was damaged two years ago, however it was not as noticeable or as bad as the current situation. At the time, they had simply repaired the top.
Now it has become obvious that the stream is wearing away at the bank and everything above is shifting down. A tree at the site which appears to have fallen slipped down the hill as the bank itself slid down into the water, removing support for the tree.
"Before we can do anything with the top, we have to figure out the bottom, otherwise it will just keep happening," said Hayes.
FEMA apparently agrees with the assessment, recently upgrading the project from "small" to "large." The initial estimate for repair was $107,000, however in light of the need for mitigation to ensure that the situation will not recur, the estimate was doubled to $214,000.
Highway Superintendent Charles Woznick explained that in this type of situation, if FEMA starts and sees that something else needs to be done or it will happen again, they will reimburse additional funds necessary for whatever it takes to fix the problem.
The project will first need to be approved by Albany, then will go out to bid. Hayes stated that there was no way to tell what kind of timeframe they are looking at before completion of the repairs.
Woznick said borings were done last Thursday and are being studied by FEMA to determine the best way to fix the problem.
The final solution may involve pylons set into bedrock below to support the section of trail.
By RACHEL COLEMAN
rcoleman@tcnewspapers.com