Senior Nuclears win four in a row
The Newburgh Nuclears senior team headed into the final week of June, winning four in a row and raising their record to 9-7.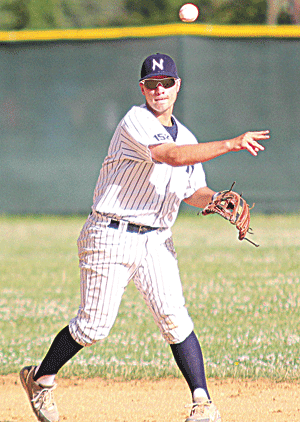 Graduations were conducted over a very long weekend break, and the Nuclears faced Schrub Oak Tuesday, June 26 without Marlboro's Mike Schoonmaker and Anthony Petralia, who graduated two nights earlier.
The infield duo is relied on for their defense and offense, and both were needed in the 11-4 loss.
"The time off due to graduation obligations definitely hurt and missing some key players didn't help, however, they are no excuses for playing poorly," said Rich McKnight, who coaches the Nuclears.
It started going wrong for Newburgh in the second inning when Schrub Oaks's Dave Judisky tagged Eric Sandri, the Nuclears' starter, with a first-pitch homer into left/center field. Steve Hill added an RBI-single before the defense gave up runs on an error and double steal as Schrub Oak took a 5-0 lead.
"We were down early as poor base running/walks/errors caught up to us against a good team," said McKnight.
Newburgh scored three runs in the bottom of the second when L.J. Gizzarelli singled home a run as a pair scored on errors. In the fourth, Newburgh loaded the bases with a pair of walks and Gizzarelli's single before Tyler Curtis picked up an RBI on a fielder's choice.
Chris Intracaso relieved Sandri and gave up an earned run across four and two-thirds of an inning as Schrub Oak's lead grew due to more misplays in the field.
"We had 14 miscues, not a good recipe for playing well," said McKnight.
Intracaso settled down and got key strikeouts, such as a pair to close out the sixth and keep the game from getting embarrassing for the Nuclears.
"It was his best performance of the year. He's a young kid making adjustments each start – and it has paid dividends," said McKnight.
By Bond Brungard
sports@tcnewspapers.com