Tough loss for Town of Wallkill girls
Their postseason lasted just three games, but the Town of Wallkill's senior girls Little League team fought hard during its final loss to Monroe-Woodbury during the District 19 championship game in Montgomery Friday.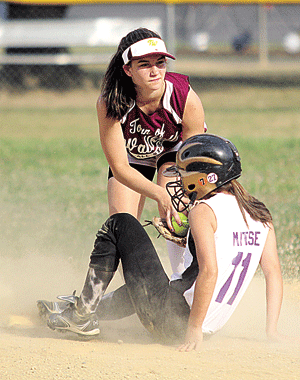 Wallkill trailed 3-0 after the first inning before tying it in the fifth with Felica Torres' RBI-triple, but Gianna Dellerose delivered an RBI-double and Brooke Hughes singled home a run in the seventh to break the tie and win the senior championship 5-3 for Monroe.
"I was just focused on hitting the ball and getting team back up," said Torres, after the game.
Wallkill started their comeback with Kelsey Sparta's RBI-double in the fourth. Two batters later, Alexis Vega hit a sacrifice fly to make it 3-2 before Torres came up in the fifth to deliver her big hit and tie it 3-3.
Wallkill started the week Tuesday, July 3, losing to Monroe 10-4. Two days later, they traveled to the Town of Newburgh and trounced New Windsor 18-7 in six innings under the mercy rule to set up their championship meeting with Monroe.
Junior Boys
Curai White drove in four runs on two hits to lead the Town of Wallkill Boys past Monoe-Woodbury 10-5, Saturday, in Montgomery. Brendan Watson was the winning pitcher for the Town of Wallkill, which was scheduled to face Pine Bush, Monday night at the Town of Newburgh.
Senior Boys
Alex Harcher and Mike Flannery had three hits apiece, as Wallkill Area beat Maybrook, 12-2 at Otisville. Tim Conlin had a triple for Wallkill.
Mike Kelly had three hits, while James Mauro had two for Maybrook.
By Bond Brungard
sports@tcnewspapers.com