New faces to lead Panthers in 2012
Wallkill's football team has plenty of sectional title experience, as the Panthers appeared in their fifth-straight Section IX, Class A title game in 2011 after winning the title in the 2010.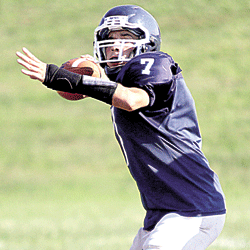 Those teams were guided by Eric Wellmon, now a cadet at the U.S. Naval Academy, and he had plenty of help on the ground from Steve Moyer and Kevin Crespi.
They've all graduated, and now Joe Pillitteri, a junior, will have Josh Villafane and Sean Puleo, both seniors, in the backfield to help control the ground game for the Panthers.
As a junior, Villafane carried the ball 123 times, rushed for 1096 yards and scored nine touchdowns during the Panthers undefeated 2011 regular season. Pillitteri moves up to varsity after starting for the JV squad last year.
He beat out Kevin Presutti, a senior and fellow six-footer, who played sparingly behind the very durable and mobile Wellmon.
"It was very close," said Brian Vegliando, Wallkill's coach, of his decision to go with Pillitteri. "They are very similar."
Pillitteri will have all four starting offensive linemen, Kieran Miller, a junior, and Andrew Conners, Christian Ruddy and Javier Alcantara, all seniors, to keep the lanes open for him and the backfield.
Wallkill also lost some power on defense, a defensive line that graduated along with Jahsiem Davis, an outside linebacker and defensive end.
"He made some big plays for us," said Vegliando, of Davis.
Seniors Gage Wellmon and Edwin Mazareigo will man the defensive line with Rob Redner, Tyler Blasko and Neil Burnett, juniors, and John Demy and Riley O'Donnell, sophomores.
Senior Brendan Connors, who made 116 tackles and three sacks in 2011, is back at linebacker.
The Panthers lost many wide receivers to graduation, and Kole Burger, a senior, Brandon Purdy, Nick Rohl, Dylan Notaro, juniors, and Nick Gomez, a sophomore, will fill the receiving corps this season.
Isaiah Berrios-Smith, Dylan Wellmon, Dylan Atkins, and Mike Greco, all seniors, will play in the defensive secondary.
By Bond Brungard
sports@tcnewspapers.com