Bushmen crush Kingston, 49-14
Late in the game Friday, Mike Martin, a big part of Pine Bush's running attack, was sitting in the passenger seat of the trainer's cart with ice wrapped around his ankle as the Bushmen continued to push Kingston all around the field.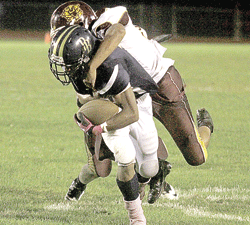 Last season when Martin was a sophomore and Pine Bush was off to a 3-0 start, the running back fractured his collarbone against the Tigers as his team lost 18-12 and their season took a nosedive to a 4-5 finish.
"No, no," said Martin, smiling, when asked if his wrapped ankle bothered him as much as his season-ending injury from 2011.
The rest of Pine Bush's sideline was happy too, as the Bushmen routed the Tigers 49-14, and sent home a team that made so much misery for them since 2009. That year, Pine Bush lost in overtime to the Tigers on the road, and a year later were routed by them 49-0 at home. Last year, they endured the overtime insult to Martin's injury, and that resonated until Friday's home victory.
And it was Martin, who rushed for 80 yards, who was the first to make a statement with a 22-yard touchdown run with 6:14 left in the first quarter. Less than two minutes later, with the running game on the attack, Martin was poised to score again when he fumbled on the one-yard line.
Pine Bush's line then forced a safety before Matt Geisler returned a shallow punt short of the goal line and then scored a two-yard touchdown as the Bushmen led 16-0 with 2:20 left in the first quarter.
Kingston scored its first touchdown late in the first before a third Bushmen, Chris Weston, scored on an eight-yard touchdown run with 7:05 left in the second quarter to make it 22-7.
Unable to run the ball, Kingston tried to scare Pine Bush in the air as Jerred Beniquez scored on a 57-yard touchdown catch to make it 22-14 with 6:48 left in the second. A minute later, Geisler, who finished the game with 143 yards, stopped Kingston's momentum with a two-yard touchdown run to make it 28-14.
Kingston never scored again as Martin and Dan McNamara, Pine Bush's quarterback, scored touchdowns in the third quarter. Weston added his second touchdown of the game on a 13-yard run with 4:38 left in the fourth as Pine Bush cruised with a balanced running game and stingy run defense.
"We played with everybody," said Martin.
As the last minutes ticked away, McNamara was talking to a teammate on the sideline before he was summoned back to the field when the Bushmen regained control of the ball. By then there was no question the Bushmen had handed back to the Tigers the futility endured in recent years against their AA opponent.
"We knew we could do it," said McNamara.
Pine Bush is now 4-0, and that momentum will be needed when they face the always tough Crusader team at Monroe-Woodbury Friday.
By Bond Brungard
sports@tcnewspapers.com