Dukes sputter but still win to go 4-0
Rich Ward, Marlboro's football coach, was unhappy with his team and the officiating at Rondout Saturday, but a pair of field goals by Adam Laubach, and a stingy run defense offset the sputtering offense to beat the Ganders 19-0 as the Dukes remained undefeated at 4-0.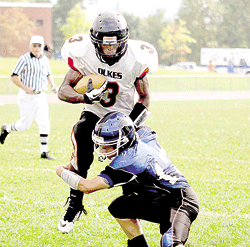 Rondout made it difficult early for the Dukes until Ryan Cary was able to score with 1:31 left in the first quarter to make it 7-0. It remained that way until Laubach booted his first field goal for 22 yards with 12 seconds left in the half before the Dukes left the field with a 10-0 lead.
Laubach, who left the game early to play in a late afternoon soccer game at home, helped the Dukes again with a 41-yard fieldgoal less than halfway through the third quarter for a 13-0 lead.
The Dukes padded the lead when Devin Pierre scored from five yards out after Cary set up the run with an interception.
Despite the Dukes' willingness not to give up after their early struggles, Ward was still not satisfied with their play.
"I was very disappointed with the way we played today. I don't think our minds were ready," said Ward.
"I'm not sure how it happened. If I was sure how it happened, I don't think it would have happened. I think the kids have to fix it."
Instead, he praised the Ganders
"I think Rondout's a great team," he said.
Friday, the Dukes host Spackenkill, and both teams are undefeated as divisional rivals in league play. Ward was in no mood after beating Rondout to speculate how his team might respond to that challenge.
"We don't look ahead. We live everyday, day by day," he said.
By Bond Brungard
sports@tcnewspapers.com