Fire destroys Plattekill home
The call came in at 2:45 am. on Saturday morning for a structure fire on Route 32 on the south side of Plattekill, near Little Pond Lane. Acting Plattekill Fire Chief John Papo said that by the time his company of nearly 50 firefighters arrived on the scene, the entire residential home was engulfed in flames.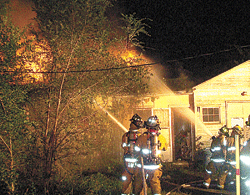 Within five minutes the roof collapsed, preventing his crew from performing an interior attack. He said within 75 minutes the fire was knocked down and under control.
Papo became acting fire chief after long-serving Chief Ralph Davis suffered a broken hip in a recent accident.
On Saturday Papo said his department received assistance from several area fire departments: Cronomer Valley Fire Department, with a ladder truck; Modena Fire Department; Walkill Fire Department; Clintondale Fire Department who were on standby for the Plattekill Company; Orange Lake Fire Department, who were at the water fill site; Walden Fire Department, who had an engine on standby and the Winona Lake Engine Company with a rescue truck at station 1. Mobile Life ambulance was also on the scene and Plattekill had their ambulance on standby back at the firehouse.
Papo said there were no injuries to the residents of the home and no firefighter was hurt during the incident.
Papo said he was unsure of the origin of the fire since he had not yet received a report from the Ulster County Arson Task Force investigators, calling it "undetermined" at press deadline.
By MARK REYNOLDS
mreynolds@tcnewspapers.com