Goldbacks boys edge Crusaders, 1-0
It was expected to be a tough game, and the way the boys soccer teams from Newburgh Free Academy and Monroe-Woodbury play each other, it may take years before they ever score half a dozen goals between them.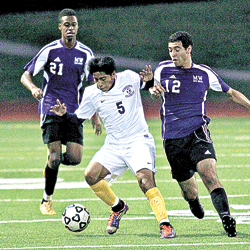 It was no different Thursday, Sept. 20 during another one of those 1-0 games.
During the regular season last year when the Crusaders came out on top 1-0, but it was Rodrigo Guerra who exacted revenge for Newburgh with his single goal to give the Goldbacks the Section IX, Class AA title before the team lost in the state semis.
On Academy Field last week, Cesar Grados took a corner kick from Christian Cuervo, put his head on it, and scored with 11:56 left in the second half for the game's only goal as the Goldbacks handed the Crusaders their first loss of the season.
"It was a very hard game. They touched the ball well, but we did the same thing," said Grados, a senior captain."In the end I was cramping up, but I couldn't give up on my team.The ball was coming straight at my head, and I hit it hard as I could."
Matt Iorlano, Newburgh's coach, said it was a scenario frequently practiced.
"It was a perfect ball," said Iorlano, who expected this outcome. "I knew it was going to be one goal, one way or the other."
After beating Pine Bush a week earlier on a bumpy Gidney Avenue Field, Iorlano looked forward to playing the Crusaders on the Academy Field's fast turf, where the Goldbacks like to keep the ball on the ground.
But that didn't happen in the first half.
"We played the ball too much in the air, and that's one of the adjustments we made at halftime," said Iorlano. "We were a lot different team in the second half than we were in the first half."
NFA improved to 3-1-1, and Monroe dropped the 4-1-1.
By Bond Brungard
sports@tcnewspapers.com