162 new homes in Lloyd?
The Lloyd Planning Board got an earful from about 70 residents who attended a public hearing last Thursday at the firehouse on the proposed residential Mountainside Woods project, proposed near Tano Drive, Hilltop Lane and Sunnybrook Circle.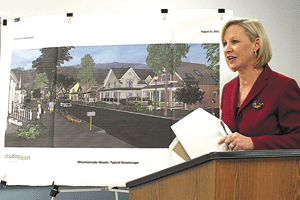 A 30-minute presentation was given by attorney, Jayne Daly and engineer, Ross Winglovitz representatives of developer, David Weinberg, followed by more than an hour of public comment. Not one resident spoke in favor of the project.
Daly said since 2009 many engineering revisions were done, resulting in modest-sized homes, with front porches in a neighborhood setting. She said there will be three model homes from which to choose – single floor and 2-story, all with 3 bedrooms and 2 ½ baths. The lots are 50 feet by 80 feet with a choice of square footage, ranging from 1,200 to 2,400 sq. ft. The roads will be 26 feet in width, have 5-foot grass mediums, 4-foot-wide sidewalks, 10-foot front lawns and garages. The project is designed to be built in phases over a projected eight-year period, with the developer building only when a contract is signed.
Winglovitz said that since 2009 the project has undergone extensive technical and environmental reviews; from analyzing water and sewer; geologic and archeological aspects; a review of endangered species and significant analysis of the traffic and drainage at the site.
The public, however, voiced their displeasure of the entire project; saying it would be irresponsible for the town to allow 162 single-family homes to be constructed on a 29-acre parcel. They pointed out that adding 325 more vehicles, that will be generated by this project, will bring traffic to an intolerable level in the surrounding neighborhoods; something residents said they will have to live with long after the developer is gone.
The public pointed out that if this project is ever built it will result in higher, not lower, taxes, will make some of the roads like a racetrack and add even more flooding to what already exists in their area. They blamed past poor planning practices and warned it will only get worse if this project is allowed to move forward.
The public reserved their sharpest criticism, however, for the Town Board for granting to the developer his requested zoning change to residential ¼ acre in April 2012 before plans for the project were fully complete and before many residents knew much, if anything, about the project. The public pointed out that the land the developer is giving to the town as a conservation easement to the west of the proposed construction site is essentially worthless because of its step topography.
John Indelicato, who is a direct neighbor of this proposed project, said it is out of character with the Town of Lloyd.
"I see this project as a nightmare," he said. "This is not a subdivision; it's a city."
Indelicato said if this project is built, water will continue to damage his property as well as flood the surrounding neighborhoods. He said no matter what promises are made by the engineer, "water goes where it wants to go [and] it causes a lot of damage."
Indelicato suggested cutting the project by 75 percent and spreading out 40 homes across the parcel.
"This project does not benefit the town. It benefits the builders and those that are associated with it, he said. "As you look at it, all you see are more schools, more fire department [and] more police."
Indelicato said planning boards often feel obligated to approve a project if a developer appears "willing to listen to their suggestions, is willing to do the studies and is willing to cooperate and mold his project around the suggestions of the board." He said the developer should be allowed "to build an amount of homes that does justice to the land, does justice to the people living in it and does justice to the neighbors around it. Don't prostitute the land…Listen to the people who are already living here and will continue living here."
Resident Joseph Lafiandra, who reviews site plans and subdivisions as a public engineer, said the "consulting engineer did a great job making this project smell like a rose; almost sold me on it." He said from a tax perspective "we all know that residential development is not self-sustaining," pointing out that the developer even admits that school taxes will go up "a modest amount" in their impact statement. He said although the numbers in the developer's report "may look good on one side, the reality is something else."
Lafiandra said the developer used statistics on 1-, 10- and 100-year storms for his drainage calculations; however, these figures are no longer valid due to climate change. He said flooding will happen because rainstorms are becoming more intense and are lasting far longer in duration.
"The [developer's] plans call for zero-net runoff. It might work up to a point, but I've never seen that in my life," he said. "You build something; you're going to have more runoff. It's as simple as that."
Lafiandra concluded, stating that one town he reviews plans for "is out of control and this [Mountainside Woods] looks like one of those out of control projects."
Carl Kilpatrick, who has lived on Brescia Boulevard for 47 years, said that traffic today is already a problem, with many people using his road and Reservoir Road to avoid the already crowded intersection of Toc Drive, Vineyard Avenue and Tillson Avenue. He said even 50 more cars will significantly impact the area.
Previous hearings on several aspects of the project were held, but no one living near or bordering the project was contacted by mail, as they had been for the first time for last week's meeting. Many said the Town Board granting the zoning changes, in effect, makes this project "a done deal" and holding a public hearing, at this late stage, is simply a formality the town is required to do by law.
Records in the Lloyd Building Department's Mountainside Woods file from former Highland Fire Chief Daniel Bassanese and from Peter Miller, assistant Highland fire chief, highlight significant concerns about the project. At the public hearing these concerns were not mentioned by the developer's representatives.
Bassanese's letter, dated July 29, 2010, states "this particular project may certainly impact the fire service in Highland as to an increase in call volume relative to the following: increase in traffic – potential for traffic accidents; increase in false alarm activation responses; increased calls involving general fire department calls for service [and] this project is estimated to add 600 (+) (-) people to the town's current population."
Miller's letter, dated Sept. 26, 2012, comments on the project's cul-de-sacs and roundabout designs.
"These traffic devices, constructed in such a densely populated area, make the movement of fire apparatus very difficult…when compounded by improperly plowed snow and/or parked cars." He pointed out that the developer's present design "makes it very difficult to plow snow efficiently and becomes more difficult with additional snowfalls, leading to a narrow roadway."
Highland Highway Superintendent Richard Klotz's letter of Sept. 28, 2012, mentions several aspects of the project that "should absolutely be taken under consideration."
He said that he has not had the time to review the flow rates and drainage calculations for the project "in order to determine if those numbers will adversely affect the outfall on the Twaalfskill waterway."
Klotz said he prefers T's (or hammerheads) installed instead of the current cul-de-sac designs, because they allow "for more efficient snow removal, maintenance and emergency access."
Klotz stated his preference for full height curbing instead of ones that are mountable that generally result in vehicles "being parked on the sidewalks, rather than alongside them."
Klotz said trees should not be planted in the Town of Lloyd right-of-way because "continuous maintenance is currently an issue with those properties we service now."
Klotz's letter states that all of the roads at the project are subject to the new town road specifications, such as a minimum of 35 foot curb radii at the intersection of two new streets and that all driveways must have curb radii of 10 feet.
The Planning Board kept the public hearing open, indicating that questions that were raised last week will be addressed at their Oct. 25 meeting, scheduled for 7 pm. at Town Hall.
By MARK REYNOLDS
mreynolds@tcnewspapers.com