A splash of 'Local Color' at the Wallkill River School
Local Color" is a term artists use to describe the color of an object that is not in light or shadow. In the October exhibit at Wallkill River School of Art; "Local Color" takes on a whole new meaning with depictions of Orange County by local artists Debbe Cushman Femiak and Christina Pahucki.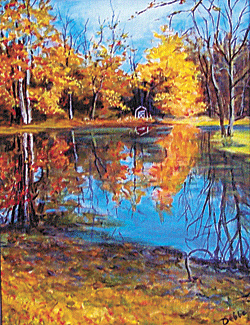 Both fine artists will greet visitors on Sat. Oct. 6, from 5 p.m.-7 p.m. Wine and appetizers from Wildfire Grill will be served, event is free and open to the public. Exhibit runs from Oct. 1-31, Mon.–Sat., 9 a.m.-6 p.m. Introducing emerging artist Frances Barmann in her first solo exhibit in the workshop room.
Debbe Cushman Femiak moved to the Hudson Valley area in 1996 and currently resides in Newburgh. She is a represented artist at the Wallkill River School & Art Gallery. She teaches fiber art classes at the Wallkill River School, on Wednesday and Thursday evenings and attends classes whenever time permits. Femiak is a multi-media artist, and is equally comfortable with many mediums. She enjoys working with pastels, watercolor, acrylics, and drawing, as well as her long time enjoyment of knitting and crocheting.
Chrissy Pahucki was born in Goshen, and grew up next door to her grandparent's dairy farm. As a kid, she loved nature and would wander the farm, which bordered the Wallkill River. In school, she'd purposely sit near the windows so she could watch the birds hop around in the maples, or the clouds rolling by, while keeping one ear on teachers. Every summer she went camping in the Adirondacks with her family. As a result, the farms and the woods have never left her artwork.
Since her kindergarten teacher remarked on her artistic talent, Pahucki has been hooked on art. She earned a bachelor's degree in art education from Buffalo State College and a masters degree in art education from SUNY New Paltz. She's been teaching art for 11 years, the last 8 of those at Goshen Middle School. She shares her energy and artistic talent with her students, pushing them hard to compete and succeed in many art competitions.
Pahucki has been painting en plein air with the Wallkill River School for five seasons. Painting outside is the perfect blend of nature and art for her. She paints landscapes and nature studies in both acrylics and watercolors. Pahucki's paintings are found in numerous local homes, and beyond.
Every month, the Wallkill River School introduces an emerging artist in the workshop room. This month, it is Frances Barmann, a native of Orange County, and a member of Orange County Land Trust, Middletown Art Group and Wallkill River School.
Barmann taught, and is now retired from the Middletown public schools. Although she used her love of writing and art to bring out creativity in her students, her own art was always on the back burner. However, during a leave of absence from teaching, she created a series of masks, which were displayed in various venues in Orange County, as well an art show at the Unitarian Meeting House in Rock Tavern in 1996.
Her exhibit consists primarily of pen and ink drawings.
The Wallkill River School is a nonprofit arts organization located in the historic Patchett House at 232 Ward St. (17K) in Montgomery.