Goldbacks win 5-1 over Valley Central
When Newburgh's boys soccer team traveled to Montgomery Wednesday, Oct. 3, Valley Central's Denis Marku caught the Goldbacks a little off-guard when he scored early with a head shot by James Demshick, the goalkeeper.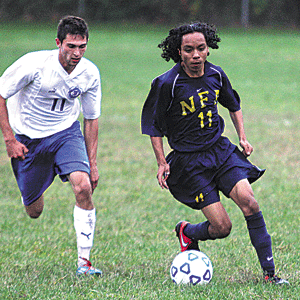 "They surprised us," said Christian Cuervo, who eventually tied it with a head shot before scoring the last goal off a pass during Newburgh's 5-1 victory.
Horacio Alivez and Cesar Grados would score again in the first half as Newburgh took a 3-1 lead at the break. Avilez scored again in the second half before Cuervo finished the scoring for Newburgh
"We got it back though," said Cuervo.
"We started touching the ball quicker and faster, and we just concentrated on what we needed to do."
Cuervo said he and teammates, like Nick Catania and Demshick, know how to handle a little adversity – since they've played together for so many years.
"I played with these guys when I was 10," he said, "I know how they play."
Paul Berkowitz, Valley Central's coach, said his team played their game well for half of the first half.
"For the first 20 or 25 minutes or so, we were right there," he said.
But during Alivez's first goal, the team lost its focus and the rest of the game
"We were ball watching. And they stole one," said Berkowitz, of Newburgh's first goal."We weren't able to pull it back together and hopefully,we correct that."
The team has struggled and improved. After losing to Newburgh – a team that you can't make a mistake against – the Vikings showed they still need to work on their game
"We've made a lot of improvement this year. This game was a fallback," said Berkowitz."They're a technically skilled team."
By Bond Brungard
sports@tcnewspapers.com