Lady Goldbacks lose on the road
Newburgh Free Academy's volleyball team dropped to 1-6 Thursday, Sept. 27 when they were swept on road in Montgomery by Valley Central, 25-15, 25-7 and 25-8.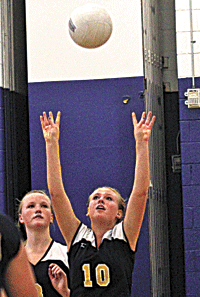 The Lady Goldbacks made it a struggle in the first set, going point for point for a while until the Lady Vikings pulled ahead to win. In the second set, Lady Vikings went on a 17-0 run.
And they didn't it any easier in the third set. Just like the second set, the Lady Vikings kept the margin wide as they played the net well and managed to find holes in Newburgh's defense to prevent a volley or return.
Newburgh's Samantha Mullarkey had six points and five digs. Bridget Martin helped the Lady Goldbacks with eight points and three assists. Jenna Ramos had four points,and three digs.
Paige Van Pelt made it miserable for the Lady Goldbacks with eight kills and four blocks. Kristyn Bucci had 22 assists, four aces and three digs. Elyssa Brattesani had six aces and two kills. Brittany Branch was electrifying in the third set and finished the match with three kills and three digs.
Valley Central improved to 4-4.
By Bond Brungard
sports@tcnewspapers.com