Pine Bush's first win over Newburgh since 1995
The seniors were infants when Pine Bush last beat Newburgh Free Academy in 1995, and they finally delivered again Saturday when the Bushmen kept the Goldbacks to 69 yards of offense – while running wild during the 41-0 beat down.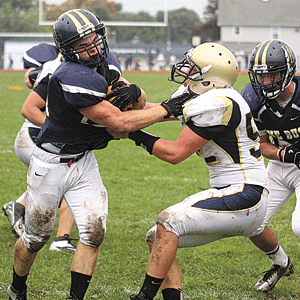 "It's a no-brainer," smiled Jim Wright, Pine Bush's coach, when asked if he thought it was a great victory.
Students rushed onto the field to greet their team after the afternoon victory as the Goldbacks stood quiet and shocked to be on the sad end of Pine Bush's jubilation during a community gathering for Homecoming Saturday.
"Seven to nothing at the half," said Bill Bianco, Newburgh's coach. "I don't really know what happened to be honest."
During the first half, the game seemed to many what it would be when these two Section IX, Class AA Division I powers and rivals met. Both rely on ground games and both have strong lines, and Dylan Eller's second quarter three-yard touchdown was the only difference in the first half.
By the end of the third quarter, Pine Bush led 28-0 on Brian Guzman's 23-yard touchdown run, Mike Martin's 13-yard touchdown run and Matt Mallory's 35-yard interception return.
In the fourth quarter, Guzman kept the romp going with 38-yard and 36-yard touchdown runs before the celebration started after 3 p.m. at game's end.
"It's really a great feeling," said Guzman, a senior, who finished the day with 151 yards."I thought it was going to be a tougher game. But 41-0, I never expected that."
Eller finished the game with 168 yards and helped give the Bushmen a driver's seat in a quest for a playoff berth. Newburgh will have to beat Monroe-Woodbury this Friday by 18 points and then beat Kingston to make the playoffs to finish the season second to Pine Bush.
Pine Bush beat Kingston and lost to Monroe-Woodbury, and a Crusader victory over the Goldbacks this weekend helps ensure a possible rematch with the Bushmen in the playoffs.
Aaron Johnson, once part of the Goldbacks' running game, had crutches and a chair on the Newburgh sideline as he recovered from a gunshot wound to his upper left-thigh.
"I've never seen a game like this," he said. "I hate it."
If you were from Newburgh it was hard to watch as a new generation in Pine Bush pushed aside 17 years of futility against Newburgh on the gridiron. But in the end it came down to size and one team's ability to outplay the other.
"We obviously ran out of steam. Up front, they are a big team," said Bianco."I think it was the big guys leaning on us instead of the speed. And when the big guys start leaning on you, you start doing some crazy stuff."
By Bond Brungard
sports@tcnewspapers.com