Remembering heroism of 1918
Ninety-four years ago this past Saturday, 39 men from the 107th Infantry Regiment, Companies E and L of Newburgh and Company I from Middletown, were killed while breaking through the famed German Hindenburg Line in France in a battle that changed the world – and led to the end of the Great War.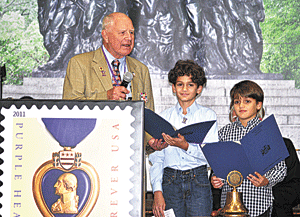 In terms of loss of lives, it was the bloodiest single day in the history of Orange County. On Saturday, citizens gathered in two ceremonies – one in Goshen and one at the Newburgh Armory Unity Center – in a day dedicated to heroes, past and present.
Sponsored by the Purple Heart Hall of Honor and the Newburgh Armory Unit Center, the day honored veterans by increasing awareness of Sept. 29, 1918 when 39 men from Orange County died at the Battle of Hindenburg Line. The mission Saturday was to ensure that their service and the service of all other veterans would never be forgotten.
The featured speaker of the day was Maj. Gen. (ret) James E. Livingston, a Vietnam War veteran and Medal of Honor recipient. Livingston was honored "for conspicuous gallantry and intrepidity at the risk of his own life above and beyond the call of duty" as commanding officer, Company E" during a determined assault on a heavily fortified Village of Dai Do, which had been seized by the enemy, on May 2, 1968.
In a stirring speech, Gen. Livingston said that veterans didn't have to be honored by the country citizens, "because we are honored because we served.
"That's the only honor we need," he said.
Livingston said he became a general and is a recipient of the Medal of Honor "because I had exceptional Marines who served with me."
Pointing out into the audience, he said he wanted to thank the Marines who had served with him and the Gold Star Mothers for their sacrifices.
"You know what sacrifice means," he said.
He also involved his audience by calling for veterans of the various wars to stand and be congratulated for their service.
"We would not have an America if it were not for these gentlemen and ladies. Thank you for your service."
He thanked Korean veterans for fighting in temperatures that were 40-below.
"Think of what that was like," he said.
When it came to the Vietnam War, he angrily denounced anyone saying the U.S. lost that war.
"We didn't lose that war. That war was lost in Washington, D.C. So, you hold your head high."
Every veteran received a verbal salute from Gen. Livingston, from Desert Storm all the way through the War on Terrorism.
"God bless you," he repeated.
Even those who didn't serve in any of those wars received a blessing.
"Bless you too. You deserve blessings, too," he said.
"Thank you very much."
"And I want you to look to your left and to your right," he said, pointing to the high school cadets lining both sides of the Armory.
"That's your legacy," he said proudly.
Speaking of the men who died that day in 1918, Gen. Livingston spoke of how special they were to this country.
"Today we honor all who have been wounded or killed in military service," he said. "Looking out from my vantage point; looking at all these veterans, I see courage, I see honor, I see bravery and I see selfless dedication to our country.
"The Purple Heart is a medal that no one wants to earn. No one joined the military to become the recipient of a Purple Heart. It is not for meritorious service or for gallant service. It is not a longevity award. It is a medal that simply states that I was in the right place at the right time and I was able to perform my duty to my country and to my brothers in uniform.
"I've dedicated my life; and we recipients all know that many Purple Heart recipients were awarded posthumously. In fact, most of them were."
The medals were placed in the hands of grieving families, he said, the Purple Heart "binds us together with a promise that we will never forget that sacrifice that was made on the field of battle."
Saturday's activities began with a memorial service at Orange County Veterans Cemetery in Goshen and followed with more than four hours dedicated to saluting those who have served – and died for – our country.
David McTamaney, a Vietnam veteran, read the roll of Hindenburg Line dead as a bell was sounded for each of them and Maj. Gen. James E. Livington, a Medal of Honor recipient, gave the main speech of the day.
"Serving in those infamous trenches were many men from our own Orange County," McTamaney wrote in his dedication. "They had been part of the New York State National Guard First Regiment serving with Company I in Middletown or Companies E and L in Newburgh.
"The storied 7th Regiment 'Silk Stocking Regiment' from New York City was also called. When the U.S. entered the war those companies were combined into the 107th Infantry Regiment, which was part of the 27th Division."
"… when the bugle sounded, the 107th charged out of their trenches, and by day's end, had broken the Hindenburg Line."
Orange County lost more than 200 of its citizens in that war from disease and from wounds in battle. But never in history has the county lost so many on one day.
An especially touching moment occurred when State Sen. Bill Larkin introduced Michael Mazzariello Jr. and Michael's brother, Mario, and told the story of how the brothers had discovered a Purple Heart medal in a local antiques and collectibles store and set out to learn more about the identity of the man behind the medal – and eventually return the medal to the soldier's family.
Their search led them to a Cherokee Indian reservation in North Carolina where the Purple Heart and Medal of Honor honoree, Pfc. Charles J. George, had lived before entering the Army. George died in Korea in 1952 while falling on a grenade to save two fellow soldiers. Then kept silent, despite his agony, to avoid alerting the enemy to their position as he lay dying.
It was announced that the brothers are to travel to North Carolina next month to return the Purple Heart medal to the family of Pfc. George, where as Michael said, "it belongs."
In the audience were a number of Gold Star mothers and Purple Heart recipients; Jewish War veterans and veterans of foreign wars; Catholic War veterans and American Legion members – everywhere you looked there were those worthy of being called heroes.
On both sides of the Armory, standing throughout the afternoon at attention of parade rest, were future heroes, members of Newburgh Free Academy and other high school Naval, Air Force, Armory and Marine cadets.
Exhibits at the Newburgh Armory included a Graffiti of War Art Exhibit, a Photographic Memorial Honor Wall and an American Veterans Historical Museum. A mail call with letters delivered by the mail squad was a touching addition,
Throughout the afternoon, a band played tunes reminiscent of USO units during World War II. Mary Kay Messenger sang the national anthem and God Bless America.
By ALLAN GAUL
agaul@tcnewspapers.com