Scenes from a summer in Italy
Laura Martinez-Bianco and William Noonan will be displaying work inspired by their summer workshop trips to central Italy. Laura's medium is pastels and William's is oils.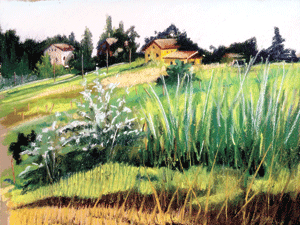 Each year this teaching duo offers a mid-summer workshop in Italy and next year's trip will be to Perugia in July. "Last year was our first time in Perugia and we discovered so many wonderful places to paint and things to do there." comments Laura. "This trip always proves to be very artistically productive for us personally as well as for our students and we are always eager to share our accomplishments." adds Noonan.
"Artroom With a View" is planned to coincide with the Orange County Studio tour so that art aficionados who are out touring the county can easily add it to their itinerary.
The Artroom Gallery is located on the border of Newburgh and Marlboro, a few minutes north of the City of Newburgh and an easy stop for anyone visiting studios on the tour. The gallery will be open both days that weekend from 11-5, other times by appointment.
Laura Martinez-Bianco is an accomplished pastel painter who is also a high school teacher in the Mahopac school system. William Noonan teaches at local studio schools including the Wallkill River School, Barrett House Art Center and Mill Street Loft. To see examples of their work you may visit their respective websites laurambianco.com and williamnoonan.com.