Wallkill outlasts Monticello 56-38
Monticello's Mistah Alli did not waste anytime setting the tone of the game when Wallkill, the other Section IX Class A Panther team, traveled to Sullivan County Saturday.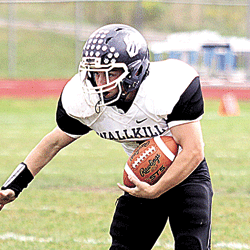 It took Alli just 13 seconds for Wallkill to find out the fight was starting now when he ran the opening kickoff back 90 yards as the home team went up early 7-0. Monticello lead after the first quarter 7-6, but Wallkill survived the three-hour slugfest to win 56-38.
"It was a sloppy football game. Give Monticello all the credit in the world. They executed and at times controlled the pace and tempo of the game," said Brian Vegliando, Wallkill's coach.
Sean Puleo kept Wallkill in it in the first quarter when he scored from four yards out. Early in the second Josh Villafane scored from two yards out to make it 13-7 as Wallkill started to try and get away from Monticello.
Joe Pillitteri, Walkill's quarterback, connected with Kole Burger for a 12-yard touchdown reception before Villafane scored his second touchdown of the quarter on a 10-yard run with less than a minute left.
Monticello, unwilling to face a wide deficit at the half, came back in the closing seconds when Michael Rogers pulled down a 38-yard touchdown catch as he team trailed 28-13.
Wallkill took the kickoff in the second half, and Mike Greco gave his team a 22-point lead, 35-13, when he brought it back 75 yards for the immediate score.
But it was still Alli's house, and he took Monticello's first second-half kick-off back 85 yards, and Wallkill's lead was back to 15 points, 35-20.
Alli, who rushed for 101 yards on the ground in addition to his kickoff returns, ran the ball 25 yards into the end zone with 6:46 left in the third, cutting Wallkill's lead to 35-26.
Wallkill's John Victor caught an 11-yard touchdown catch before Alli came back with a two-yard touchdown run as the brawl continued to the final quarter with Wallkill leading 42-32 at the end of the third quarter.
Villfane added touchdown runs of 25 and three yards within the first three minutes of the start of the fourth. Monticello's quarterback, Jonathan Harned, finally ended the scoring with a nine-yard touchdown run less than midway through the fourth before the game ended just after 4 p.m.
"We did a good job battling through some adversity, but we have to clean some things up," said Vegliando.
The Panthers host Cornwal Friday night, and Vegilando said there will be some sharpening of the offense, defense and special teams to get ready for their seasonal rival.
"You return a kick for a touchdown, and that's great. But we gave up two," said Vegliando, after their fight on Monticello's muddy field."I'm very happy with the way we played overall."
Pillitteri, 17/20 for 261 yards, was glad he has a running game, pulled along with some help by Villafane, that keep the options open for the offense.
"He's a great running back," said Pillitteri, of Villafane. "Any team wants to go out and stop one of the best running back in Section IX. Of course, that will opens up pass plays."
Walllkill improved to 4-1 and Monticello dropped to 1-4.
By Bond Brungard
sports@tcnewspapers.com