Brick House hosts candlelight tour
The Orange County Department of Parks, Recreation and Conservation will host a Thanksgiving Candlelight Tour on Saturday, November 17, from 3 p.m. to 7 p.m. at the Brick House Museum located at 850 Route 17K in Montgomery.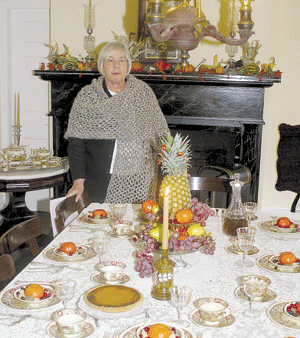 "Orange County has an abundance of historical treasures," said County Executive Ed Diana. "The Candlelight Tour is a great way families can experience our rich heritage as we welcome in the festive holiday season."
The original old carriage road leads one through a forest of brilliant foliage, old farm engines and a homestead built in 1768 by Nathaniel Hill. The house and its adjacent farmland have been passed down from father to son for 200 years. The homestead reflects seven generations of family furnishings, including original Chippendale furnishings.
"Visitors on the tour will have the opportunity to view authentic historic holiday arrangements in each of the ten rooms throughout the homestead," said Orange County Parks Commissioner Richard Rose. "Each room will also host the work of an artist from the Wallkill River School available for a silent auction, and the original downstairs kitchen will feature the Goosetown Gift Shop with refreshments."
Admission to the Candlelight Tour is $3 per adult and $2 per child. For more information on the event, please contact Susan Tucker at (845) 615-3833 or stucker@orangecountygov.com
Special events are co-sponsored by the Friends of Hill-Hold and Brick House and the Orange County Department of Parks, Recreation and Conservation. For more information on the Hill Hold and the Brick House Museum, please visit www.hillholdandbrickhouse.org.