Bushmen stun M-W for Class AA title
They have endured some very bad seasons with only a few victories and then they've had some winning seasons, but lost key games to division rivals and missed the playoffs.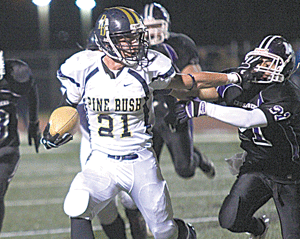 Sunday in Kingston, Pine Bush was the team at the top when they downed Monroe-Woodbury 20-16 in the Section IX, Class AA title game after picking up their only loss this year so far to the Crusaders in the regular season.
"It's the most amazing feeling ever," said Matt Geisler, a senior, whose fourth-quarter interception sealed it for the Bushmen. "Summer sessions, knowing this is what we've been waiting for all year. We came out here – and did what had to be done."
Geisler's 29-yard touchdown run with three minutes left in the first quarter gave the Bushmen a 7-3 lead going into the second quarter. But a mistake in the second half, in which a defender touched a punted ball that enabled Monroe's Ricky Giraldo to take it home for a 25-yard score, gave the Crusaders a 10-7 lead at the half.
But Pine Bush did not wait long to regain the lead in the third quarter when Mike Martin took the opening kick-off 62 yards down the sideline – in front of his teammates – for the go ahead score and a 13-10 Bushmen lead.
Geisler scored again in the third quarter on a five-yard touchdown run to extend the lead to 20-10. Monroe's Matt Valentini scored on a four-yard run with less than four minutes left in the fourth quarter. But as the Crusaders found it nearly impossible to run against Bushmen, they turned the air and found some success before Chris Weston made a pick. Geisler then followed with the final pick to seal Pine Bush's first sectional title since 1995.
"It was my first one of the year, and it felt great. It was a tough year for interceptions," said a smiling Weston after the game.
Monroe beat the Bushmen 24-7 in the regular season, and then Pine Bush returned to trounce Newburgh 41-0 at home before shutting out Minisink in the quarterfinals for another chance to face the Crusaders in their most important game in a generation.
"Yes, speechless," said Jim Wright, Pine Bush's coach. "The kids understood it. This ain't happening again. They came out in the second half and said they were going to win this thing and that's what they did."
Martin left with a leg sprain, but the speedy back is expected to return for the regional playoff game Saturday at Dietz at 7 p.m when they face New Rochelle.
"He'll be fine," said Wright.
The team had another sub . 500 season in 2011, but Wright and staff felt they had a tough squad coming back this year.
"We thought we had very good football team, but we didn't know how far we could go," he said.
Now the Bushmen have damaged Monroe's dynasty, but it was the Crusaders and their years of dominance that helped inspire Pine Bush to go after bigger prizes en-route to a possible state title run. The Bushmen move on to face New Rochelle in the state quarterfinals, Saturday at 7 p.m. at Dietz Stadium.
"We got better after that week, and I felt we could do it," said Weston, after their first meeting this season. "We wanted Monroe again."
By Bond Brungard
sports@tcnewspapers.com