Designer for the people at the Dorsky
Russel Wright: The Nature of Design, an exhibition that explores the work and philosophy of renowned industrial designer Russel Wright, will be shown through December 16, and continuing January 23 – March 10, 2013, in the Morgan Anderson, Howard Greenberg Family, and Corridor Galleries at the Samuel Dorsky Museum of Art, at 1 Hawk Drive, New Paltz.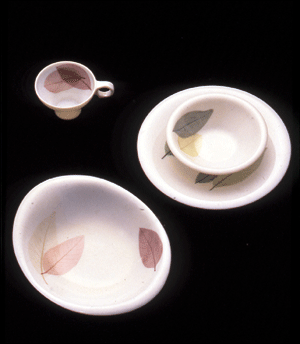 Dianne Pierce, the former museum education director at Manitoga/The Russel Wright Design Center, teaches history of design at the State University of New York at New Paltz, and teaches at Parsons The New School For Design in New York.
Donald Albrecht has curated exhibitions for prestigious museums such as the National Building Museum, the Cooper-Hewitt National Design Museum, and the Museum of the City of New York, and teaches in the master's program in the Decorative Arts at the Cooper-Hewitt.
Both are guest co-curators for this exhibition.
Russel Wright, best known as "Designer for the People" for his affordable elegant china in the 1950s, revolutionized the way Americans lived in their homes. His inexpensive, mass produced tableware, furniture, appliances, and textiles helped achieve his concept of an easier lifestyle for Americans.
Born of Quaker parents in Lebanon, Ohio, Wright began as a painter and a sculptor, and eventually became interested in set design. He worked as an apprentice to the famous set and industrial designer Norman Bel Geddes, but did not have any formal training for his future career.
During the 1920s, Wright helped create the concept of the industrial designer. He designed for homes, offices, showrooms, and expositions, unlike other designers who designed for mass production at that time.
"As a design historian, I appreciate the innovations in Wright's work with new materials such as plastics and aluminum, his biomorphic forms and muted-tone glazes, at a time when primary colors and geometric regularity was considered modern" said Pierce.
Wright produced utilitarian, yet beautiful household pieces that were economically priced. All newlyweds from the late 1930s through the 1950s owned pieces with his name marked on them. Today these same creations are valued by museums and collectors.
He and his wife Mary Wright worked together as a team to conceive their easier living philosophy. They promoted his designs in exhibitions, books, articles, advertisements, and radio interviews.
In the 1950s, Wright began creating an ecologically sensitive woodland garden on Manitoga, his estate in Garrison, a national historic landmark. At Dragon Rock, his residence and studio at Manitoga, he explored ways to bring everyday life closer to nature.
With the issue of global warming and the impact of Hurricane Sandy, this exhibition comes at a relevant time in our history. In the 1970s, Wright, an early environmentalist, invited Rene Dubos, Pete Seeger, and others to Manitoga to discuss what was needed in order to protect the natural environment in the region that he loved so much. "He would have been very dismayed by the evidence of climate change and would have pointed even more to the need to understand and respect the natural world" said Pierce.
In the last 50 years, Wright's ideas of simplicity and cost effectiveness, while still producing good design, have gone awry. "I think this exhibition can remind us of what is possible when we don't make design into an elite concept, but employ it in the making of everyday objects" said Pierce.
Russel Wright: The Nature of Design focuses on one of Wright's most prevalent concerns, the relationship of humankind with the natural world. This exhibition examines his entire career from the 1920s through the 1970s, emphasizing his experimental and innovative work between 1945 and 1968.
"I hope visitors find that his work inspires their own thinking about important ideas like the role of the natural world in our lives," said Pierce.
The Samuel Dorsky Museum of Art is open Wednesdays through Sundays, 11 a.m. to 5 p.m. Admission is free. For more information, please call 257-3844.
By Naomi Kennedy