Division III junior Goldbacks battle to the end
Newburgh battled throughout the game and outscored Minisink in the second half of the Orange County Youth Football League's Division III Superbowl Sunday in Marlboro, but the Green downed the Goldbacks 46-37 for the championship title.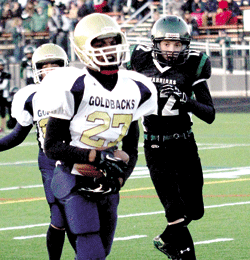 Newburgh led early, 7-0, when Christopher Patterson scored from two yards out . But Minisink came back to make it 8-7, with a conversion, when Richard Cummings scored with a 20-yard touchdown catch with 3:14 left in the first quarter.
Newburgh then regained the lead when Jalen Ricks scored with a 32-yard touchdown run a minute later. But Minisink's Daniel Halihan took the lead back when he scored with less than minute left in the first quarter as the Green led 14-13 at the end of the quarter.
In the second quarter, both teams again battled for the lead. Newburgh's Anthony Nitro made it 19-14 for the Goldbacks when he scored with a 29-yard touchdown catch. But again Halihan got his hands on the ball and gave Minisink the lead for good, 22-19, when he scored on a 20-yard touchdown run.
From there, through the end of the quarter, Minisink poured it on with a 21-yard touchdown catch by Cummings and a 31-yard touchdown catch by Jahzeiah Beniquez for a 31-19 lead at the half.
Newburgh started its second-half comeback when Anthony Fiscal scored with a six-yard touchdown catch with 5:57 left in the third quarter to make it 38-35. But a little more than two minutes later, Minisink's Kiernen Hamilton made it 46-25 with a two-yard touchdown run.
Down by 21 points entering the fourth quarter, Newburgh refused to give up. Patterson scored on a two-yard touchdown run with 9:30 left in the fourth before going in with a five-yard scoring run with less than minute left in the period to make it 46-37.
By Bond Brungard
sports@tcnewspapers.com