Dukes edge Spackenkill for Class B title
Marlboro's football team managed to retain its Section IX, Class B crown Sunday by downing Spackenkill 10-7 for its second straight sectional crown.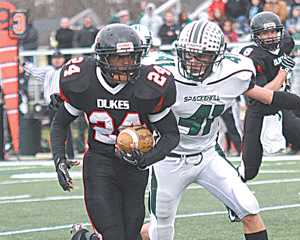 Marlboro led 2-0 on a safety at the end of the first quarter during a turnover plagued first half in which Spackenkill led 7-2 at the break as Josh Riley pulled down a 14-yard touchdown catch in the final minute of the second quarter.
In the third quarter Justin Votta connected with Ralph Malone with a pair of 18-yard receptions, including one for a touchdown, that put the Dukes up 8-7. Austin Beck attached a two-point conversion to that touchdown, and the Dukes won after a scoreless fourth quarter.
"Justin made a couple of good reads. Ralph Malone came up with some good catches," said Rich Ward, Marlboro's coach.
Malone said the touchdown came as the team was trying to get the offense finally moving, which they were able to do.
"It was amazing. It was time to make a play. We had to do something," he said. "He threw me the ball, and I caught it."
But Malone said the game remained tenuous until time expired for the Dukes' victory.
"We really weren't secure with that lead. Anything could have happened," said Malone.
Marlboro, which remained undefeated at 10-0, now starts the regional postseason at Dietz at 7 p.m. Friday.
"It was a total team effort. And I'm proud of our kids from top to bottom," said Ward. "Its not where you start, it's where you finish."
The Iron Dukes will face Our Lady of Lourdes, Section 1 Champ, Friday night in the state quarterfinal at Dietz Stadium. Kickoff is at 7 p.m. Lourdes rallied from a 9-0 halftime deficit, Sunday night, to edge Pleasantville.
By Bond Brungard
sports@tcnewspapers.com