Dukes win in OT; advance to state semifinal
Marlboro's football team opened the season playing from behind, and it seems to be part of a game plan that has helped the Dukes go undefeated this year.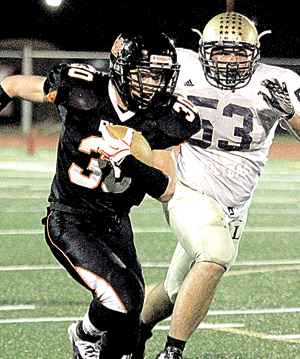 The Dukes executed the plan again Friday when they came back to tie it and then beat Poughkeepsie's Our Lady of Lourdes 23-20 in overtime to advance to the state Class B semis this weekend at Dietz Stadium.
Less than two minutes after Lourdes' Bryce Gioia caught a 52-yard pass to set up his touchdown and two-point conversion to give the Section I Class B champion a 20-13 lead late in the fourth quarter, Marlboro's Zach Sakadelis caught a 15-yard touchdown catch to tie it 20-20.
That set up Adam Laubach's 19-yard field goal after a coin toss determined Marlboro's first possession in overtime. It was then Lourdes turn to move 20 yards for a score, and the Dukes stopped them on a fourth and seven to go when the Warriors scrambled to score after a botched field goal attempt.
"I saw a kid falling on the turf and it was over. That's all I care about," said Marlboro's Matt Tamburri, of the game's final play.
Tamburri pulled in a 13-yard touchdown catch in the third quarter to give the Dukes the lead 13-12 before Gioia took the lead back for Lourdes 20-13.
Marlboro led 7-0 early after a blocked punt and Austin Beck's two-yard touchdown catch. But Lourdes came back to make it a one-point game, down 7-6, at the end of the first quarter when Christian Keenan brought it home with a 50-yard punt return.
Lourdes' Patrick Riley gave his team the lead, 12-7, at the half with a three-yard touchdown catch before the Dukes came back three times before the end of the game to win it.
"We knew we are a second half team. We came back last week. We came back against Wallkill," said Tamburri. "We were ready to go. We knew we had 24 minutes to make a change, and that was it."
Marlboro faced a daunting task coming against a team with very large offensive and defensive lines. But the Dukes developed a mantra all week during practice to overcome the Warriors' size.
"Speed, speed, speed," said Justin Votta, the Dukes' quarterback who directed the final drive to tie it and who earned the game's MVP for that effort.
"I was thinking we had to step it up, and the offense had to answer, and we did," said Votta, of that drive.
Tamburri said the team had all season to think about possibly facing Lourdes, and when they did, they were both undefeated. Marlboro came in 10-0, and is the state's fourth-ranked Class B team. Lourdes was 9-0 and the third-ranked team.
"We knew it was going to be a battle because they are so big. We heard it the whole way, Lourdes is big, Lourdes is big. We knew we had to fight and battle," said Tamburri.
But the Dukes, who will play Glens Falls this Saturday 3 p.m. in Kingston in the state semis, had plans to stay undefeated during their best season in nearly 30 years.
"Speed and heart," said Tamburri. "Everything is heart."
By Bond Brungard
sports@tcnewspapers.com