Hurricane impacts Mid-Hudson region
If Hurricane Sandy had made landfall just 100 miles farther north there would have been far more destruction all across the Mid-Hudson Valley region. The towns of Lloyd, Marlborough and Plattekill all reported significant power outages, trees and electric lines down and some flooding, but nothing even close to the widespread devastation experienced on Long Island and New Jersey.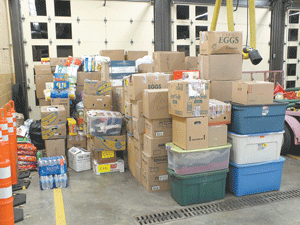 Ulster County Executive Mike Hein declared a state of emergency at 8 a.m. on Monday, Oct. 29. He later surveyed the damaged areas in person, noting that although this weather event was different than the storms in 2011, the effects in Gardiner, Ellenville and Wawarsing were severe.
In a press release, Hein stated that "My administration is committed to working with businesses and homeowners to recover from Hurricane Sandy's impact." He said the county will also help the river towns that were affected by the tidal surges.
In the aftermath of Sandy, Lloyd Supervisor Paul Hansut called a special Town Board meeting to thank all who were involved in providing emergency services during the hurricane.
"The 40 [fire department] volunteers along with the women's auxiliary, I'd like to commend them for their efforts," he said. Hansut also acknowledged the wonderful work of the police department, under the direction of Chief Daniel Waage and Sgt. James Janso, the employees of the highway department under the supervision of Superintendent Richard Klotz and the water and sewer department under Adam Littman. Hansut said Littman and his crew piled sandbags at the sewer plant "and through their diligent efforts they saved the department and they should be commended for their efforts."
Hansut said at 4 p.m on Monday October 29 the county informed him that a 9 foot tidal surge from the Hudson River was due to come ashore in the Town of Lloyd. He along with several police officers went down to the river, asking residents to voluntarily evacuate the area.
"Some people stayed [and] thank God we only got a 4-foot surge," he said.
Mariner's on the Hudson restaurant again took on water. An email from the restaurant said they experienced some property damage and loss of food and liquor, but they intend to reopen on Saturday Nov. 17 to host Michael Oremus Charity Cocktail Night.
At the height of the storm the Highland Landing Park was flooded nearly up to the brick environmental center, but the water has since receded.
Hansut said throughout the storm he was in constant contact with the Emergency Operational Center of Ulster County, with the Office of County Executive Mike Hein and with Central Hudson for updates.
"I just want to say I am very proud of the employees in the fire department and in the police department," he said. "We were ready. We were prepared and thank goodness we didn't get hit."
Councilman Jeff Paladino echoed Hansut's sentiments.
"I really appreciate it," he said of the emergency personnel. "In a situation like this you never know what you're going to get."
Hansut said he also received calls from citizens who were willing to volunteer their time to help.
"Overall I am pretty happy the way the Town of Lloyd handled itself," he said.
Plattekill Supervisor Bruce Loertscher said there were many in town that lost power because of the storm. He said he visited each fire house; "God bless 'em, I give them a lot of credit" — and noted that Highway Superintendent Bob Wager and his crew were clearing brush and trees from the roadways. He said a very large tree on Mill Street fell onto wires, which took a long time to clear. Another downed tree on Orchard Drive affected Modena Country Club.
"That was our biggest obstacle to get them back up and running," he said. "That was 130 units in there. I made some calls to Central Hudson and they had it up and running the next day."
There were also downed trees on Church Street and Huckleberry Turnpike that had to be removed.
"I commend the police department; we had extra officers on and they did a real good job of keeping people going through barriers," he said.
Loertscher said Town Hall was open on Monday Oct. 29 but he declared a state of emergency later that day. He closed Town Hall the following day, the heaviest day of rain and wind but the state of emergency was not lifted until Friday, November 2.
"On the overall we were very lucky," he said.
Marlborough Supervisor Stephen Osborn declared a state of emergency at 3 p.m. on Monday Oct. 29 and rescinded it at 4 p.m. on Wednesday Oct. 31. He said a declaration makes the town eligible for FEMA reimbursements should they experience significant damage. It also allows the fire departments and the police greater authority when faced with significant emergency events.
"Even though you don't necessarily want to take that authority, it's there if you need it," he said.
Osborn said the primary damage in town occurred at the West Shore Marina and at the Marlboro Yacht Club.
"There was quite a bit of damage to the boats," he said. "So it was more of a tidal event in the end for Marlborough than anything else."
Osborn said a chimney was damaged by a falling tree on Mulberry Lane.
"That was it for Marlboro and we were extremely lucky," he said. "It seems hard to believe."
Osborn said on the day of the storm 3,000 people in town lost power, which dropped to 1,500 by Thursday evening "but in the grand scheme of things, that's small potatoes."
Osborn said the fire departments, the police and the highway department "all worked very well; were very well coordinated." He noted that Building Inspector Tom Corcoran also worked both of the storm days.
"Even though it turned out not to be as bad as we were thinking it might be, it was good to see the first response teams working the way they were," Osborn said. "It gives me confidence should we ever, God forbid, have a worse problem with weather. I am absolutely certain that Marlborough will be safe in the hands of these responders the way they performed in this one."
Right away the Marlboro Fire Department announced a relief effort on local radio and collected a wide range of items: canned food, water, diapers, household cleaning supplies, clothes, paper goods, pet food, and blankets, all of which will be shipped south to distribution points to help those hardest hit in New Jersey and Long Island.
Fire Chief Robert Troncillito said people brought a variety of items "all day long" on Monday and Tuesday.
Troncillito said they re-boxed and re-labeled everything "to make it as easy as we could" to reach the victims of the storm.
"If you're going to help somebody you have to do it the right way," he said.
Troncillito said the response from the local community has been "astronomical." In one day an entire bay at the fire house was filled to near capacity as donated items continued to pour in. The Chief said he had about 12 members of the company who pitched in to help gather, sort and prepare the items for shipment.
Troncillito said they ran out of boxes to pack all of the items "so tomorrow we have to go out and beg, borrow and steal from the local businesses."
Troncillito said although he has not personally witnessed the devastation; "seeing what you see on television – people lost everything. They have nothing. What they have on their back is what they got away with."
Troncillito said the relief effort is all worthwhile if "we can just make somebody's day…You get the rewarding days and it doesn't get better than that."
By MARK REYNOLDS
mreynolds@tcnewspapers.com