Local residents aid in Hurricane Sandy relief efforts
"Overall, we fared very well. We fared much better than other places," said Montgomery Town Supervisor Mike Hayes. That assessment was oft repeated by municipalities in much of the Hudson Valley, especially in comparison to areas that were devastated by Hurricane Sandy. Hayes stated that while Montgomery did have some downed trees and power outages, they are doing well.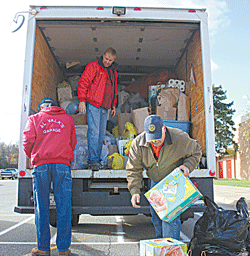 In Maybrook, a downed power line closed Route 208 for some time and Mayor Dennis Leahy stated the roofs of the sewer treatment plant and DPW garage sustained damage.
"We were very fortunate that no homes were destroyed and nobody was hurt," said Leahy. "I'm very thankful that this hurricane made a fast exit through Maybrook causing minimal damage and no one was hurt."
Crawford Town Supervisor Charles Carnes stated that the town saw mostly power outages, downed limbs and some flooding. The town hall sustained minor damage, as did some residents' property.
"I think all in all, we weathered the storm pretty well," said Carnes.
Many towns like Gardiner had multiple road closures with downed limbs and power lines, however most have bounced back. The problem now facing the area is gas shortages. In Montgomery, where several gas stations are clustered together around the I-84 exit, the worry of drivers was evident this past week.
Route 208 was deadlocked at the height of the panic due to lines from the gas stations and traffic was backed up onto the interstate. Stations were running out of fuel and drivers out of patience. As in other areas of the county, fender-benders and near fisticuffs were reported.
"Once it started, it went like wildfire," said Hayes.
Hayes explained that the shipping lanes on the Hudson River have been reopened and stations should soon be receiving deliveries. Since the tanks in so many gas stations are so low, it will likely take some time for the deliveries to catch up.
While the region deals with the shortage, residents are aware that things could be much worse. They only need to look a few miles away to their neighbors on Staten Island and Long Island to see that.
"We fared much better than other communities and for that reason, we were able to send help," said Walden Mayor Brian Maher.
The Walden Fire Department was dispatched through the mutual aid system of Orange County 911 on Oct. 31 to assist on Long Island for 72 hours. Seven Walden firefighters, with an engine and a chief's vehicle, were dispatched to Island Park Fire Dept., along with a crew from the West Point Fire Dept. Other Orange County fire companies, totaling approximately 56 volunteer firemen, were also dispatched to the same area of Long Island.
Walden Fire Chief Bob Lynn said Island Park received 4-5 feet of water from the storm surge.
"There was no power in the area," said Lynn, who was one of the Walden firefighters that went to assist. "Their fire station had been inoperable and the residents were in bad shape."
The chief's vehicle was sent to handle numerous pump outs with the West Point firefighters, while the engine answered emergency and fire calls. They distributed MREs and water, and while the firehouse they slept in had lights, it had no heat or hot water.
"Utilities in that area may not be restored until Christmas," said Lynn. "There was damage everywhere you looked and assistance to deal with it came at a slow pace each day."
Maher said the level of devastation was unbelievable and some of the things relayed to him by the firefighters were "absolutely horrifying." He noted that the firefighters would travel for miles without finding any power, gas or cell service.
"We assisted a community of residents whose lives will not be the same for a long time to come," said Lynn.
Ordinary citizens are also trying to lend aid, in the form of donations for those hardest hit by the hurricane.
On Saturday, Nov. 3, Walden Rotarian Bob Santo collected donations at the Berea Elementary School in Montgomery for residents of the Howard Beach (Queens) community.
"Bob visited the area and almost everything has been destroyed," said Nick Constantino, secretary to Rotary District 7210. "The folks there need help."
"It started as a little thing," said Bob Santo, explaining that his daughter, Giannia Cappello, also a Rotarian, lives in Howard Beach and had asked for some items for her neighbors. "Just for her neighbors who were flooded out. Now it's grown."
Santo went down and found damage everywhere. Homes seemed to be structurally safe, but severely damaged, flooded and cold. There was no electricity, no food and no water. Santo said his daughter was devastated by the damage to her home until she walked around and saw the plight of her neighbors.
Santo sent off an email Friday morning, asking for donations to be brought to the school the following morning. Within hours, the message had spread through the local Rotary clubs and hit Facebook. In just 24 hours, Santo stood surrounded by donations at the elementary school, suddenly facing a new problem: the truck was full.
Town of Mamakating Supervisor Harold Baird had secured the donation of the first truck from Checke's Metal Production of Middletown, but the flood of donations quickly stuffed the vehicle.
"I didn't expect this," Bob Santo said, looking at the mounds of donations left sitting on the ground. He joked that like the character in "Jaws," he needed a bigger boat.
"It's a good problem to have," said Constantino, a comment repeated by other volunteers as word of the dilemma spread.
The Fox Hill community came through, donating a truck and drivers on short notice. It too was soon packed to nearly overflowing, with more donations reportedly still on the way.
Donations came from all directions as Rotarians from Patterson, Poughkeepsie, East Fishkill, West Point, Highland Falls and even Phoenicia, made the trip to donate. Others simply saw a post on Facebook and decided to help.
"Sometimes you just feel helpless. You don't think there's anything you can do," said Rose Schaetzl, of Newburgh. "This is a great, great outpouring."
Betty Djerf and Cal Smith from the Phoenicia Rotary Club came down with a truck load of donations from their neighbors, all of whom had been devastated when Hurricane Irene swept through their community.
"I said, ok, we know what happened with Hurricane Irene. They need help. It's time to give back," said Djerf, adding that they received a "wonderful response" from their neighbors.
"A lot of stuff came to us [after] Hurricane Irene," said Smith. "We're happy to give it back."
The donations of water, clothes, blankets, new mattresses, food, gloves, diapers, mops, coats, boots and money were to be taken down to the Howard Beach Rotary Club for distribution on Saturday.
"It was a spur of the moment thing," said Santo, amazed at the community's reaction in such a short time. "Everybody's been so generous."
For those wanting to help relief efforts, the Town of Montgomery Ambulance Corps is trying to fill two ambulances with hurricane relief items for the Red Cross to distribute. Non-perishable items, snacks, hygiene items, blankets, coats, clothing and shoes can be dropped off through Nov. 11 at: ShopRite in Montgomery, Thruway Market in Walden, Rocco's Burgers and Dawgs in Walden, Coldenham and Montgomery fire departments and Town of Montgomery Police Department.
In addition, the Town of Wallkill Police Youth Coalition is also holding a drive and plans to deliver Thanksgiving meals to victims of Hurricane Sandy in New York City. For more information, contact the Wallkill Town Clerk at: 692-7826.
By Rachel Coleman
rcoleman@tcnewspapers.com