Newburgh girls ousted in Class AA semifinal
Newburgh's girls soccer team matched the progress they made in 2011 as one of the team's captains finally became the program's all-time scorer.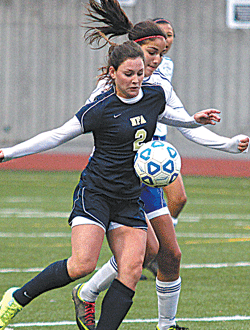 Newburgh lost to Washingtonville 3-1 Wednesday, Oct. 31 at home in a Section IX, Class AA semifinal game after reaching that game with a quarterfinal 3-2 victory over Kingston as Celina Carrero scored a pair to reach 67 as the Lady Goldback with the most goals.
Carrero, headed for the University of Buffalo, was hobbled with a nagging knee injury and a goal shy of tying the record through October, but she made it back to the postseason with a chance to help her team a round beyond the quarterfinals.
"It was my last year, so I just went out and gave it everything I've got," she said."I'm proud of my team that we stepped up and set the goal of winning our first section game."
That's as far as Newburgh got in 2011 after getting a bye to the semis. After scoring her two goals against Kingston, it was evident against the Wizards she was still healing with few bursts of her breakaway speed, after being hampered with her inability to cut and move.
Still she was there during her final game at elimination after thinking her season was over in October.
"I thought I was done for the season," said Carrero.
Washingtonville's Meghan Haslett and Kelsey Davis gave the Wizards a 2-0 lead during the first half after which Dave Doulin, Newburgh's coach, thought his team had a chance for a comeback in the second half.
"If it was 0-0 at halftime, I have all confidence in my team. We played well," he said.
Alanna O'Neill made it 3-0 for Washingtonville when she put a head on a cornerkick. Newburgh's Victoria Colotti, a junior, scored Newburgh's only goal with six minutes left in the second half.
Newburgh matched its progress from a year ago as both the 2011 and 2012 campaigns ended in the semis. Carrero set an all-time scoring record and proved helpful when she came back and gave Doulin options with other players like Daija Bullard as he tried to make a strong run through the postseason.
"It made a big difference," he said. "We could free up other people to play other positions.We can move Daija anywhere when Celina is here."
Now Doulin will have to wait and see what happens next year after Carrero, Bullard, Carleigh Finch and Diana Marquez, also a team captain, all seniors, graduate and a new team emerges in 2013.
By Bond Brungard
sports@tcnewspapers.com