NFA's Frontera sixth at state meet
Gianna Frontera finished in sixth place with a time of 17:59.4 in western New York state in the state finals. This comes less than a week after her second-place finish during the sectional final.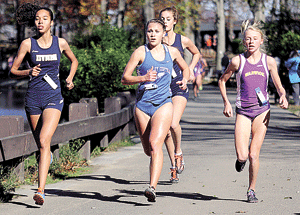 Frontera finished her sectional final with a time of 17:30.65, but she could not overcome Warwick's Megan Reilly, who again bested the Newburgh junior and would win the state Class A final.
Frontera was more than eight seconds behind a week earlier when Reilly ran off with the OCIAA cross-country title with a time of 17:21.08. Reilly was a little slower with a time of 17:23.87, but Frontera's better performance did not allow her to win her second-straight title.
"I wanted to defend my title. I tried as hard as I could," she said."(At states), I am going to try and work as hard as I can."
Frontera earned a fifth-place during the state meet in 2011.
Kalleigh Forrester qualified for the state meet with a fourth-place finish with a time of 17:56.93. That was off the mark from her 17:42.27, third-place finish a week earlier at the OCIAA meet.
"I usually go out fast, and it's hard to pace myself like that," she said. "Everybody has their off-days."
Forrester finished 36th at the state meet with a time of 19:01.5.
By Bond Brungard
sports@tcnewspapers.com