Skartados easily wins re-election
Democratic incumbent Frank Skartados, 56, of Milton triumphed over Republican challenger Christine Bello, 58, of Newburgh – 24,950 to 12,019 – easily winning re-election to the NYS Assembly.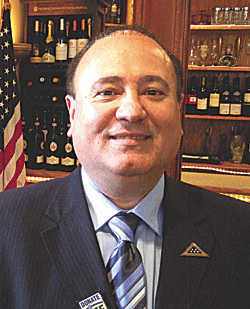 The newly drawn 104th Assembly District encompasses the cities of Poughkeepsie, Beacon and Newburgh and the towns of Marlborough, Lloyd and Newburgh. The district was formerly the NYS 100th but Shawangunk was carved off to keep the district close to a population of 125,000.
Skartados said his immediate concerns will be to help Newburgh review and strengthen their building and zoning codes. He said he will also be looking at trash collection in Poughkeepsie. He said homeowners may have to hire their own private companies due to budget cuts in the city "and that's a problem. We may have to introduce legislation on that."
Skartados said he favors having the Department of Transportation do a study on how to provide infrastructure for water, sewer and drainage along the Route 9W corridor from Lloyd south to Newburgh as a critical step to attract businesses to locate here.
Skartados said he will continue to support small businesses, work to rebuild the economy and the middle class, fight to protect seniors on fixed incomes, promote access to higher education and push to increase the minimum wage.
Skartados said he is closely watching the outcome of the impending auction of the Dynegy plant in Roseton and how that will impact the taxpayers in the towns of Newburgh and Marlborough. He said it is not clear to him why Marlborough does not have a "seat at the table" as negotiations continue on this sensitive issue, adding that he will try to change this. Ultimately, he said a long-term solution has to be found.
"It's one thing for us [Albany] to provide funding in the budget for this year but how do we address the issue for years to come," he said.
Skartados said the challenge in any race is to try to meet as many of his constituents as he can and to listen to their cares and concerns.
"I want to thank the people of the Hudson Valley for the opportunity to serve them once again in Albany," he said. "I am proud of the campaign that we ran that was based on the important issues to the Hudson Valley families – increasing jobs, getting the government working for the middle class and working New Yorkers again. Now I'm looking forward to going to the Assembly in Albany and working with Governor Cuomo on those very issues. I am very thankful for the tremendous support from the voters and I won't let them down…I want them to know my door will always be open and I will be there to help with any issue no matter what the issue is, big or small."
Skartados said he expects the swearing-in ceremony to be held in Albany the first week in January with the 2013 legislative session following soon after and running until June.
Skartados said his district office is becoming busier as more people become aware of it. He is located at 154 North Plank Road, Suite 2, in Newburgh and can be reached at 845-562-0888.
Skartados said he is using this post election period to prepare for the new session.
"It's rolling up the sleeves and going to work, absolutely," he said.
By MARK REYNOLDS
mreynolds@tcnewspapers.com