Storybook season ends for Pine Bush
After winning its first sectional title since 1995 as Mike Martin helped power Pine Bush over Monroe-Woodbury, the Bushmen's quest for a state AA title ended Saturday when they were stifled by New Rochelle 39-7 in Kingston.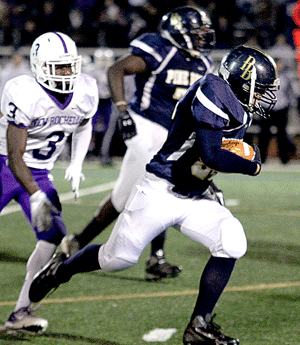 Martin was injured late in the sectional final and did not play in the state quarterfinal against New Rochelle, and Huguenot defense stuffed the run up the middle and stopped the Bushmen backs from breaking away on the side.
New Rochelle jumped out early when they recovered a fumble on Pine Bush's 20-yard line and then scored on Ahmad Encarnacion's 10-yard touchdown catch with 9:13 left in the first quarter.
Pine Bush's Ryan Duggan picked off a pass at mid-field and brought it back to New Rochelle's 14-yard line. The Bushmen could not score and turned the ball over on a fourth down. Joseph Clarke would then score with a two-yard touchdown catch less than three minutes into the second quarter, and Pine Bush trailed 14-0.
"We made a lot of mental mistakes early. We gave them the ball on the 20, and they put it in," said Jim Wright, Pine Bush's coach. "You have teams like that with two quick scores, it's tough to play after that."
Duggan, a linebacker who left the field more than once with injuries, recovered a fumble on New Rochelle's 20-yard line, and this set up Brian Guzman's 16-yard touchdown run with 7:27 left in the second.
Guzman's score was Pine Bush's only offense success as New Rochelle's Khalil Edney made it 20-7 at the half with a 20-yard touchdown run.
In the third quarter, Wjhante Holden scored on a two-yard touchdown run. After the Huguenots recovered a fumble on Pine Bush's 14-yard line, Holden pulled down a batted ball in the end zone as New Rochelle led 33-7 at the end of the third quarter. New Rochelle's final score came in the latter half of the fourth quarter with another touchdown run.
Guzman was back after missing the sectional final, but Martin's absence – with his speed – made it difficult to compete with New Rochelle's speed and size.
"You miss a kid like that, no doubt about it," said Wright.
Pine Bush, after many dismal seasons, finally put it together this year to earn a playoff spot and beat long-dominate Crusaders in the sectional final. They shut out Minisink in the semis and embarrassed Newburgh 41-0 on a Homecoming Saturday in October.
Pine Bush will miss Matt Geisler, a tough senior who seemed to be in every offensive and defensive play against New Rochelle and Chris Weston and Guzman, his fellow seniors. But Martin, Duggan and Dan McNamara, the Bushmen quarterback, will be back, and Wright is very happy with this season and upbeat already about 2013.
"It's a huge accomplishment, what we did this year. I'm very excited about next year," said Wright. "I'm extremely proud of our kids. This does not damper anything for us."
By Bond Brungard
sports@tcnewspapers.com