The Watercolor World of M.E. Whitehill
When the name Mary Evelyn Whitehill is brought into a conversation, many images of this silver-haired lady usually dressed in some shade of purple will pour forth.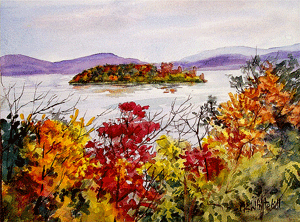 …a watercolorist; a lover of nature; a plein air painter who would schlep her paints and easel into the fields of the wonderful Hudson Valley that she depicted in her many river and landscapes; a preservationist who painted historic buildings not only because she appreciated their architecture, but also to record them for historical documentation; a woman of both the 20th and 21st centuries who created her own website and used it to market her works; a thinker; an independent woman; an artist…
Mary Evelyn Whitehill had a long life. She passed away at age 92 on March 27, 2012. A graduate of Wells College with a BA in art & art history and of SUNY Albany with an MS in library science, she knew from the time she was a child that she wanted to be an artist as she followed in the footsteps of her great-grandfather, Thomas B. Pope, a Hudson River School artist.
She was a prolific painter who did the majority of her paintings the last 30 years of her life. Besides the hundreds of paintings which are treasured pieces in private collections, she left behind 400 artworks at home and in many galleries around the Hudson Valley. Nearly one hundred of them are on display in Orange Hall Galleries, Orange County Community College, in a show entitled The Watercolor World of M.E. Whitehill ~ A Retrospective.
Daughter Joan Roth and sons Brian and Walter Whitehill have cataloged all her works and have chosen paintings that represent many of her interests and endeavors. The exhibit will include large and small works and be categorized under five subject areas: Savoring Flowers & Foliage, Capturing the Moment, Creating a Full Life, Enjoying Nature, and Preserving Our Heritage. In addition, a large glass showcase will feature many of her sketches plus her palette and brushes in order to visually explain her creative process.
Come and enjoy viewing this superb exhibit 9am to 8pm, Monday through Thursday, and 9am to 6pm on Friday. When you come, wear a touch of purple.
Orange Hall is located at the corner of Wawayanda & Grandview Avenues, Middletown. Questions may be directed to Cultural Affairs at cultural@sunyorange.edu and (845)341-4891. Also, check out website www.sunyorange.edu/culturalaffairs.