Dukes roll over Pine Bush, 76 – 42
Marlboro's boys basketball team played as a team when they traveled to Pine Bush Wednesday, Dec. 19. Alex Smith was the only Duke to score in double figures when he led the team with 14 points, but others came close in the 76-42 victory.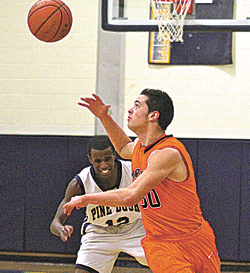 Zach Sakadelis hit a three to break it open 13-7 in the first quarter – as the Dukes took off from there.
Sakadelis, who finished the game with eight points with a pair of threes, helped the Dukes to confidently control the perimeter as Smith did all of his work inside while going four for four from the foul line in the third quarter.
Tyler Terpening, Ryan Cary and Austin Beck each scored nine points, and Tyler Banks scored eight points.
"We have a lot of kids that can play. We have the luxury of both Tylers, Terpening and Banks. That's a great combination to come off the bench with," said Mike Koehler, Marlboro's coach. "It's nice. It's tough to plan for us when there's more than one. Hopefully, we can keep doing it."
The Bushmen found some daylight in the fourth quarter. Antonio Brown, who led Pine Bush with 15 points, scored seven points in the fourth quarter while going three for four from the foul line.
Marlboro's speed also pushed the Bushmen into mistakes, and a lot of turnovers ended up in the basket for the Dukes.
"That's been the story this year," said Stephen Distefano, Pine Bush's coach, "too many turnovers."
Marlboro, the Section IX, Class A and MHAL champs last season, is back in Class B this year, and they are just as fast and deeper than they were a year ago.
"We were a bit overmatched," said. Distefano. "Inside and out, they are a good basketball team."
Marlboro improved to 4-0, and Pine Bush dropped to 0-5.
By Bond Brungard
sports@tcnewspapers.com