Dynegy nearing sale of power plants
Katy Sullivan, director of Public Relations and Internal Communication for Dynegy, said that to date her company has no firm buyer of their Roseton and Danskammer power plants.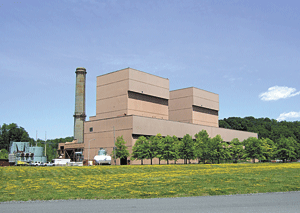 "We continue to work with the bidders and try to reach resolution on that process," she said. "I think we, the community and the employees are looking forward to winding that down and being able to announce the results of the auction."
Sullivan said once the bids are received, a negotiation process follows "and the bids can be adjusted."
"Maybe one of the other bidders included a term or a provision in their bid [that] is helpful to the sales process," she said. "We might go back to a different bidder and say would you be willing to do that; so it's kind of an ongoing negotiation at this time."
Sullivan said she is not at liberty to disclose the number of bids received or the amounts offered for the power plants to the Texas based Energy Company.
"The terms of the sale would be part of any announcement and would be filed with the court upon the conclusion of the auction sales process," Sullivan said.
Sullivan said the bankruptcy hearing that was held in Poughkeepsie last Friday "was largely procedural."
"The more substantial items were deferred to a later hearing," she said. "There was something with Central Hudson on the docket that was approved, but that's about all that I know."
Sullivan said the Central Hudson issue pertained to an agreement between them about a substation and transmission equipment.
"It was more about managing that through the transition [of ownership]," she said.
Sullivan said as far as the tax issues with the Marlboro School District and the town of Newburgh "I think everything is somewhat contingent upon the sales process itself," believing the tax payments may be in a holding pattern until the larger sale issue is completed.
Sullivan said last week one of the Roseton units was called into service and believes it was run by members of management and the administration since presently there is an ongoing strike by the workers.
"Other than that, they have not been requested since the storm [Hurricane Sandy]," she said.
Looking to the future, Sullivan said Dynegy continues to work with multiple parties in the sales process and "hopes to resolve everything in an expedient manner. It's just a matter of continuing to work with the bidders to get to agreed upon terms, but I don't have any specific timing on that."
"We understand the community is anxious for a resolution of this process for a number of reasons," she said. "We would like to be able to announce something in the near future and are working toward that end. I think that would be good for all parties. I think the resolution of the uncertainty will be welcomed."
Sullivan said a conclusion of the sale and resolution of the tax issues "would be everyone's hope at this time."
By MARK REYNOLDS
mreynolds@tcnewspapers.com