Goldbacks set to tipoff a new season
Newburgh entered the Section IX, Class AA postseason last year as the number two seed, earned a bye to the semis and then finished the season with one and done loss, 64-53 , to Middletown, the eventual sectional champ.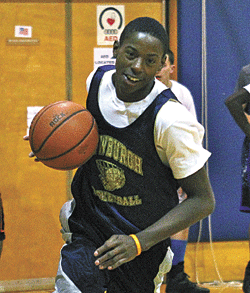 And one goal stands above others right now as the Goldbacks get in line to try and become one of the best Section IX, Class AA teams this season.
"It's our goal each and every year," said Matt Brown, Newburgh's coach. "We want to be competing for a Section IX, championship."
Jarrod Scurlock, a team captain who led the Goldbacks with 19.6 per game and the only player from the 2008/2009 state Class AA title team, graduated with Jonte Rutty, the Goldbacks' six-foot, six-inch center who averaged about eight rebounds per game.
This season the Goldbacks will rely on Donovan Fields, who averaged 11.3 points per game as a sophomore, to help power their offense. Fields will be joined by Anthony Salman, a sophomore forward who averged 7.6 points per game as a freshman.
Jakwan Jones, a junior center, will help with the inside game. Jordan Cabell, a senior forward, and Jerry Hall, a senior guard, help round out Brown's front five Rob Mills, a senior forward, is expected to help out off the bench with Elijhah Ghrael a senior forward/center.
Newburgh has never been a team that struggled on offense, but defense has been an issue that is addressed every season.
"We have to improve our defense and rebounding," said Brown.
Newburgh will host the Danny "Butterfly" Washington Goldback Classic Saturday, Dec. 8. after hosting Washingtonville Friday during the season opener.
Saturday's three-game showcase starts with Poughkeepsie and Peekskill at 1 p.m. Marlboro will play Pine Plains at 4 p.m., and the Goldbacks play Brooklyn Collegiate at 6 p.m.
Washington was a long-time manager for the Goldbacks and big fan of Newburgh's other teams, and a scholarship is being planned to honor his memory.
"We're going to present the family with a plaque," said Brown.
By Bond Brungard
sports@tcnewspapers.com