Lady Goldbacks top Pine Bush
Earlier this month, Newburgh's girls basketball team beat Pine Bush by just four points for their first victory of the season. And when the Lady Goldbacks hosted Pine Bush Thursday, Dec. 20, they shot just 33 percent from the foul line.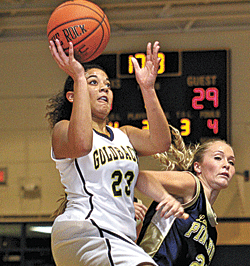 But they still won by a large margin, 63-41.
"We do enough things to allow teams to stay in games, but what saves us inevitably is our defense," said Rich Desiderio, Newburgh's coach. "We play stifling, tough defense – and that allows us to survive when we can't hit foul shots or are missing layups."
Newburgh led by 10 points, 17-7, at the end of the first quarter and by 20 points at the end of the third quarter, 49-29, when Taylor Brummell sank a three-pointer at the end of the period.
Sarah Williams led Newburgh with 20 points, while pulling down 21 rebounds. Kyla Given scored 10 points and pulled down 13 rebounds. Brummell also had 10 points and pulled down eight rebounds.
"We didn't play well for whatever reason. Newburgh played great. They came at us and put it on us," said Bill Lacovara, Pine Bush's coach. "I thought we could have done a lot more offensively, but we couldn't handle their pressure."
Pine Bush's Crysti Eichner found it difficult to score, but she was nearly flawless at the foul line, where she went 13 for 14 and finished the game to lead her team with 23 points. Overall Pine Bush shot 65 percent from the foul line.
Newburgh now needs to take some lessons from Eichner.
"We just have to practice and get better," said Desiderio, of his team's foul shooting.
By Bond Brungard
sports@tcnewspapers.com