Lady Panthers make it seven in a row
After overcoming a first-quarter deficit, Wallkill's girls basketball team improved to 7-0 Tuesday, Dec. 18 after they beat Washingtonville at home 44-29.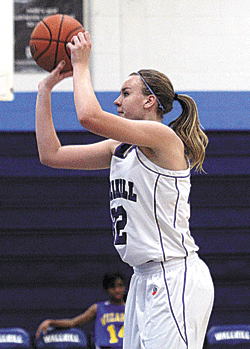 Down 10-8 at the end of the first quarter, Wallkill went on an 11-4 run in the second quarter as Lisa Bouffard scored nine of her 19 points in the game, which led the Panthers.
"We kicked it into gear. Our kids did a really nice job of rising to the occasion," said B.J. Masopust, Wallkill's coach, of his team's defense – which helped with a 21-12-halftime lead. "They got off to a quick lead on us, and we contested shots in the second quarter, going into halftime."
Wallkill needed the defense because the normally hot-shooting team found itself struggling on offense. Bouffard may have scored 19 points, but she went two for six from the foul line, while the team overall went six for 13. And Bouffard was the only Wallkill player to score in double figures.
"It was defense," said Rachel Simon, a sophomore who scored seven points for the Panthers. "We were lacking with our shooting today. I think our defense really held us together overall."
Heather Kiczek scored nine points for Wallkill. Washingtonville's Kyname Jones led her team with 10 points.
By Bond Brungard
sports@tcnewspapers.com