Many new faces for Highland girls
Highland's girls basketball team enters the 2012/2013 season with another sectional title from last year, but has few of the players from that team.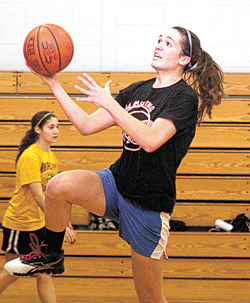 "We're very young and inexperienced," said Jim Delmar, Highland's coach. "The first half will be a learning experience."
Highland lost Alex Garcia, a guard, Kelly Murphy, a center and forwards Victoria Pratts, Courtney Piniero and Jayna Parker. Itzel Castellanos and Alexis Decatur, who gave Highland some depth, also graduated.
"A lot of experience left, a lot of hard work left, and a lot of talent left," said Delmar.
Highland starts the season after winning three straight Section IX, Class B titles, and Shannon Ward, a junior forward, and Sam Valentino, a senior guard, return to help anchor the team this season.
Julie Planke, a senior guard, Allie Rozzi, a freshman guard, Lindsay Chlus, a sophomore guard, and Kelly Panek, Alex Wilklow, juniors, and Molly Wiedeman, sophomore, will also help the team this year. Tianna Pittman, a junior forward, is playing her varsity season after playing JV last year.
Delmar expects the team to come together early in 2013 after they learn from the first half the season.
"By the second half, they should meld into a team for the better," he said.
By Bond Brungard
sports@tcnewspapers.com