Dukes tame Wallkill Panthers 66 – 51
Marlboro's boys basketball team improved to 8-0 Friday when they traveled to Wallkill and beat the Panthers 66-51.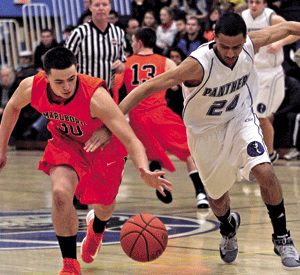 And the Dukes did it with plenty of depth, speed and good control as they spread the ball around throughout the game.
"Maybe 14 or 15 was high, and that's how we do things," said Mike Koehler, Marlboro's coach, without immediately knowing who led the Dukes in scoring or with how much.
Tyler Banks led the Dukes with 15 points when he scored eight points in the second quarter and seven points in the fourth quarter. Austin Beck helped with 14 points, and Ryan Cary added 11 for the Dukes.
The Dukes led 19-10 after the first quarter and kept pulling away in the second quarter until Wallkill's Rob Grullon, who led the Panthers with 20 points, hit a three at the buzzer to slow his opponents' surge as the Dukes led 38-23 at the half.
"We moved it really well on offense," said Koehler.
Wallkill dropped to 3-6 with the loss and had a hard time keeping up with Marlboro's speed – which was helped by their depth. Wallkill countered with as much intensity as possible and didn't give up.
"We just have to figure out a way to increase our intensity to the next level," said A.J. Higby, Wallkill's coach, of his team
Marlboro's intensity was matched by the Dukes' nearly flawless shooting. Wallkill, though, wasn't so fortunate as many shots bounced off the rim late in the game.
"They were making everything, absolutely everything," said Higby.
Kevin Presutti scored 12 points for Wallkill, and Christian Pagan came off the bench in the fourth to help with seven points.
The Dukes would go on to suffer their first loss of the season on Sunday, when they fell in overtime, 61-58 to Our Lady of Lourdes at the Officials vs. Cancer event at SUNY New Paltz. In that game, Marlboro's Ryan Cary, Matt Tamburri and Alex Smith all fouled out. Smith led Marlboro (8-1) with 15 points and Tyler Banks had 10 off the bench.
By Bond Brungard
sports@tcnewspapers.com