Fire destroys Shawangunk home
Firefighters from several departments battled a massive blaze and single digit temperatures at a home on Bruyn Turnpike last week.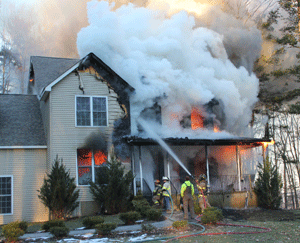 At approximately 4:15 p.m. last Thursday, the Shawangunk Valley Fire Department responded to 1044 Bruyn Turnpike to find a fully involved fire. Fire Chief Jim Miller said the entire back of the house had already burned and the blaze was moving to the front of the home.
"There was quite a bit of burn time without anyone noticing," said Chief Miller, who noted that the family was not home at the time. The fire was reported by a passerby who saw smoke.
Miller said the two-story home located in the Shawangunk Valley Fire District, was fairly new, having been built only about 8 years ago.
Firefighters from Walker Valley, Pine Bush, Gardiner, Cragsmoor and Plattekill fire departments responded to the scene, with Wallkill Fire Department providing area coverage for everyone fighting the blaze.
Miller said in addition to the fire, firefighters were battling freezing temperatures as low as two degrees.
"Their turnout gear was frozen from water spray," said Miller, adding that everyone did a very good job working together and quickly putting out the fire.
Miller said the firefighters were able to save two cars from the garage and some items in the home may be salvageable for memories, but the home itself was destroyed.
"The main thing was nobody got hurt. No one from the family was inside when it burned, thank God," said Miller.
The cause of the fire was investigated by Ulster County Fire Investigators who have determined that the fire was accidental.
Ulster County Fire Investigator Jimmy Bales said on Monday that fireplace embers discarded outside by the back porch set the porch on fire and subsequently spread to the home.
By RACHEL COLEMAN
rcoleman@tcnewspapers.com