Lady Goldbacks topple VC, 56-53
If it is the middle of January, and you've won just three games, everything becomes must-win, and that's what the Lady Goldbacks faced when they headed to Montgomery to play the reigning Section IX, Class AA champs.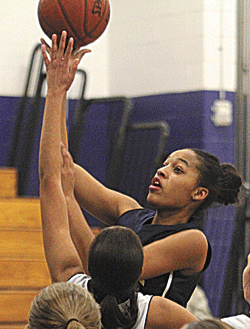 But a strong defensive effort early, followed by a great night of shooting from Katie Cook, who finished the game with a triple double, gave the Lady Goldbacks some momentum when they defeated Valley Central 56-53 Tuesday, Jan. 15.
"We took a real positive step in the right direction," said Rich Desiderio, Newburgh's coach after his team improved to 4-7.
Two nights later in Goshen, Newburgh beat Burke 50-18 with an 18-8 run in the fourth quarter to improve to 5-7.
In Montgomery Tuesday, Newburgh stalled Valley Central in the first quarter, 12-5, before Cook took over in the second quarter. Cook scored 13 points in the second with a trio of threes and went 2/2 from the foul line. She would lead the Lady Goldbacks with 23 points while going 9/9 from the foul line, including going 4/4 in the fourth as Valley Central closed in. Two of those hit in the fourth gave the Lady Goldbacks enough room to breath leading, 52-47 with a minute to go in the game.
Valley Central's Haliann Fitzgerald hit a three in the final minute to cut the lead to 56-53, but the Lady Goldbacks survived and show what they can do when many things come together.
"We were hitting foul shots – and not turning the ball over," said Desiderio. "You're going to have nerves (at the foul line), you just can't give in to them. I'm proud of them."
Newburgh also had a few turnovers that kept the game closer – instead of a rash which can turn a lead into a loss.
"After the turnovers, we were able to get it back together, and that was the key," said Desiderio.
Cook, after completing a dream game, while also pulling down 10 rebounds and helping with 10 assists, credited her teammates and the team's overall composure for sealing the victory against Valley Central.
"Those two things were crucial in that win," she said. "As a team we grew a lot through our tough losses, and with that in mind, we stepped up."
When it was over Tim Faulkner, Valley Central's coach, said his team did its best to stop the Lady Goldbacks from running away with the game. The Lady Vikings closed in in the second quarter with four foul shots from Fitzgerald and Madison Van Pelt, chances afforded by technicals, but the Lady Goldbacks led 27-22 at the half.
In the third, Fitzgerald hit a three along with Chelsea Crawford. And they did the same in the fourth, trying to catch the Lady Goldbacks. Fitzgerald led Valley Central with 16 points while Crawford added 12 points. Overall, the Lady Vikings were 18/29 at the foul line.
"They shot well from the foul line and made some big threes in the second quarter," said Faulkner, of the Lady Goldbacks."We made some adjustments. We turned it into a game. Because for a while, it didn't look like it was going to be a game."
Haley Maraday and Paige Van Pelt also helped with six points each as Valley Central dropped to 5-4.
"Haley Maraday came off the bench and did a good job. Chelsea Crawford had some big minutes tonight," said Faulkner.
By Bond Brungard
sports@tcnewspapers.com