Maritime power
Last week, the Lincoln Sea tugboat and barge made its way south along an ice-free Hudson River, back to New York City.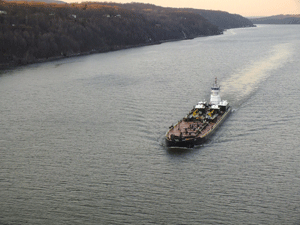 The tugboat, originally named the Everett, was built in Tacoma, Wash., and was owned by the Mobil Oil Corp. She and fellow tug, the Nicole Leigh Reinauer, hold the distinctition of never having been weather bound during the harsh winter of 2001/2002.
In 2004, the 123-foot tug was acquired by K-Sea Transportation Partnership of East Brunswick, NJ, who renamed her The Lincoln Sea, after waters off the north coast of Greenland in the Arctic Circle. This name stuck through another sale to its present owner, Kirby Offshore Marine, based in Houston, Texas.
Lincoln Sea's two EMD 16-710 main engines feature Reintjes gears that turn twin Rolls Royce five-blade, fixed-pitch propellers that are 12 feet in diameter. This all translates to a robust 8,000 horsepower.
Two Northern Lights generators, one rated at 99 KW provides the tug with electrical power and an additional 75W generator handles the INTERCOM coupler – an intricate pin system, rather than ropes, that binds and secures the tug to its barge. Both are Safety Of Life At Sea [SOLAS] certified.
The Lincoln Sea's barge, after several name changes, is now known simply as DBL 140. She can transport up to 140,000 barrels of oil and operates primarily between New York City and Albany, under long term contract.
The Lincoln Sea has also been a frequent winner of the NYC Tugboat Race, an annual event held on the Sunday prior to Labor Day, starting at the 79th Street Boat Basin and runs north to the 86th Street Intrepid Pier. In 2012, there were 21 tugs participating, with the Lincoln Sea taking 1st Place in Division A with a time of 5:01.
By MARK REYNOLDS
mreynolds@tcnewspapers.com